10/28
How Plant-Based Products Can Help Address Goals from the UN Climate Change Conference (COP26)
---
From October 31st through November 12th, the UN Climate Change Conference of the Parties (COP26) will bring stakeholders together to accelerate action towards the goals of the Paris Agreement and the UN Framework Convention on Climate Change. As a leading association helping guide the shift to a circular economy, the Plant Based Products Council (PBPC) encourages the discussions and actions that countries will make to reduce emissions and reach a "net-zero" future together – especially through the increased adoption of plant-based products.
Circular Economy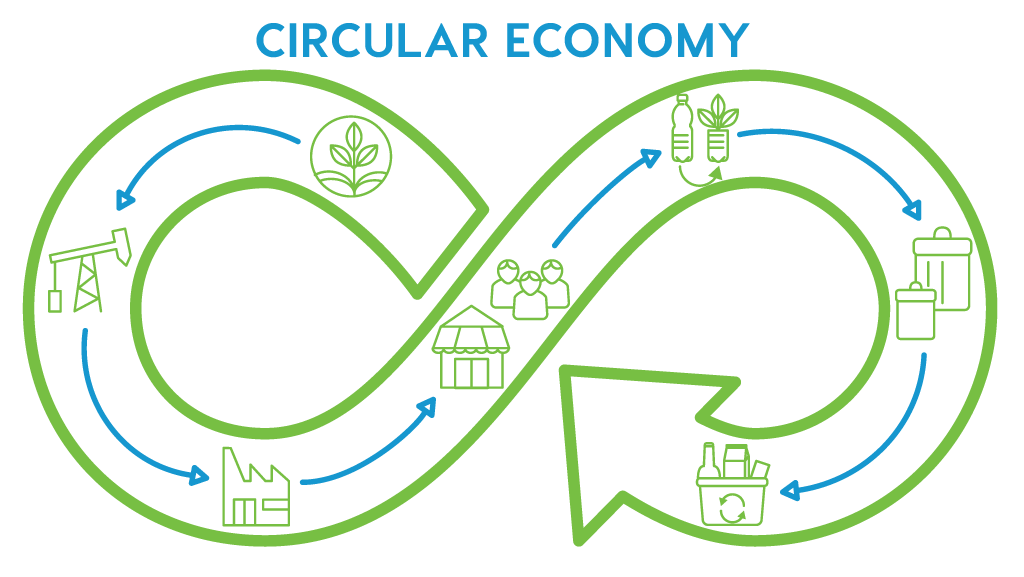 A circular economy works to eliminate waste and extend the useful life of products and materials, and plant-based products can help close this circular loop. It starts with renewable inputs – like plant-based feedstocks including hemp, sugar beet and algae – which are then converted into renewable chemicals and materials. These chemicals and materials can then be used to create everything from packaging to textiles to absorbents. At the end of their useful life, many of these products are recyclable or compostable, helping support the next generation of products.
Plastics Emissions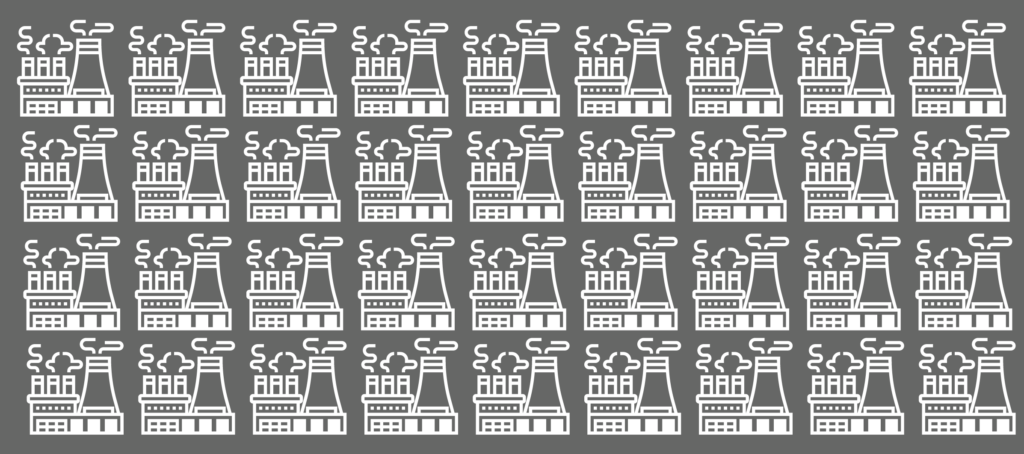 As leaders discuss ambitious climate targets during COP26, plant-based products can help move the needle on these goals. Currently, the products we use every day have devastating impacts on our environment. For example, the U.S. plastics industry is responsible for at least 232 million tons of CO2e gas emissions per year. This amount is equivalent to the average emissions from 116 average-sized (500-megawatt) coal-fired power plants in 2020. Investing in the greater use and adoption of plant-based products provides a better way, one that isn't reliant on fossil fuels.
Plant Based Products = Reduced Emissions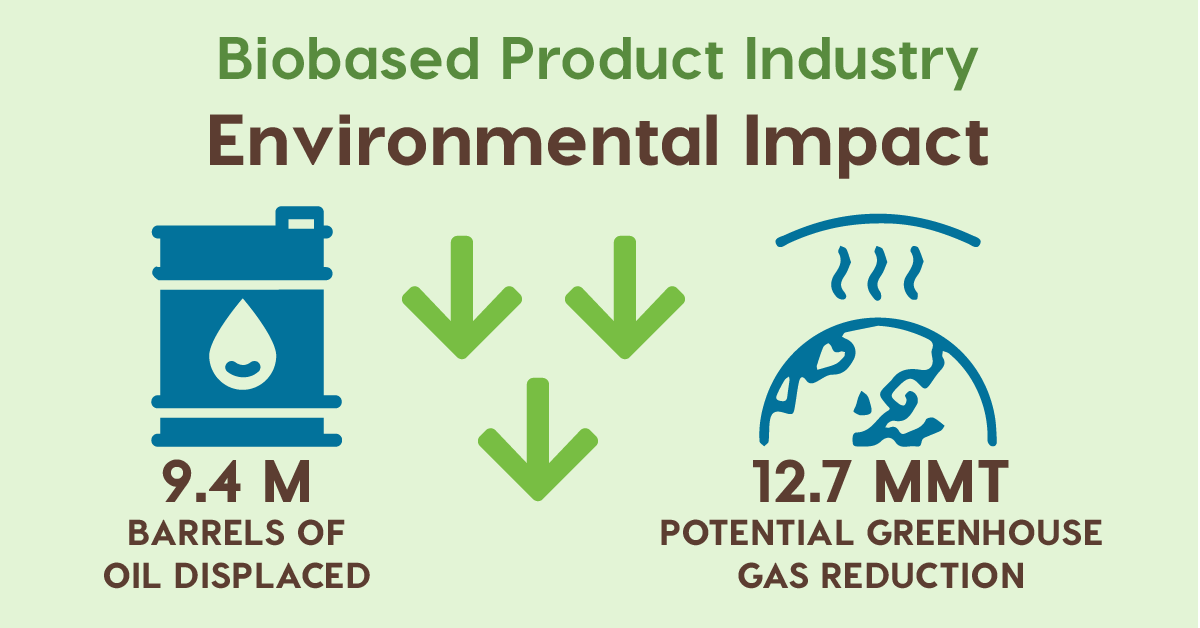 Since plant-based products are made from a renewable source of carbon, they can reduce greenhouse gas emissions. Unlike fossil fuels, the feedstocks used to create plant-based products remove carbon dioxide from the atmosphere during their growth phase. That atmospheric carbon is used as a building block during the feedstocks' production and is sequestered in the plant-based products themselves during their useful life.
A recent report from the USDA estimated that plant-based products displace about 9.4 million barrels of oil a year, and have the potential to reduce greenhouse gas emissions by an estimated 12.7 million metric tons of carbon dioxide (CO2) equivalents per year. And compostable products go even further, especially when used in food packaging or food service applications. They can help support the conversion of food scraps to compost at composting facilities, instead of being sent to landfills where they would otherwise be a significant contributor to landfill methane emissions. Finally, the compost they create is a valuable soil amendment, improving soil health and improving its role as a carbon sink.
Plant Based Benefits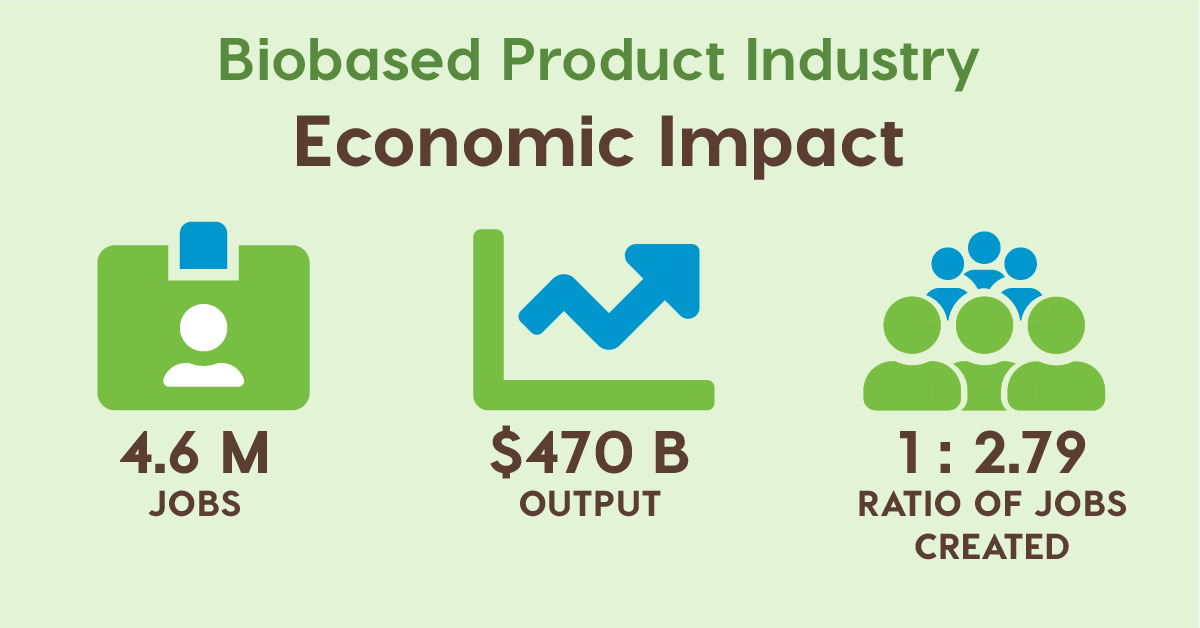 The plant-based products industry continues to grow as more and more stakeholders and policymakers become aware of their environmental and economic benefits – growing over 27% from 2013 to 2017, bringing $470 billion in value added to the economy and supporting 4.6 million American jobs. As the industry grows, its climate benefits will too, supporting a shift towards a "net-zero" future.
PBPC Actions Supporting COP26
As the conversation continues at COP26 and beyond, PBPC will advocate for a growing embrace of a circular economy and solutions that can get us closer. Helping stakeholders and policymakers understand the impact that the products we use and manufacture every day can have on our climate is an important step towards harnessing the economic and environmental potential of plant-based products, accompanied by their appropriate end-of-life infrastructure. Milestones like COP26 highlight the importance of actionable goals that can help us address a growing climate crisis.
---
---