The Plant Based Products Council (PBPC) advocates for a shift toward a more circular bioeconomy through greater adoption of renewable, plant-based materials supported by appropriate end-of-life infrastructure. PBPC is a premier issues advocacy organization, working tirelessly alongside policymakers to advance growth of the plant-based products industry.
While other organizations represent interests related to plant-based foods and biofuels, PBPC specifically focuses on plant-based products, including bio-based plastics, textiles, and ingredients.
Read about our accomplishments, learn how we are taking action on PBPC's priority policy and communications objectives, or learn about our 2023 Farm Bill priorities.
Annual Report
PBPC's 2022 Annual Report celebrates PBPC's milestones and progress of the past year. Learn about PBPC's work to drive the growth of the plant-based products industry and achieve a more circular economy.
---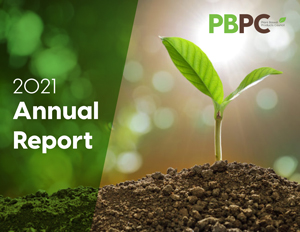 Our first Annual Report celebrates PBPC's 2021 progress and gives a preview of our priorities for 2022. Learn about our major accomplishments and how we plan to continue our commitment to a more circular, more renewable, and more sustainable, plant-based future.
PBPC's Priority Policy Objectives
Grow and expand the U.S. bioeconomy to create the potential for substantial job opportunities in the plant-based products industry.
Create a more level playing field for plant-based products in the marketplace through funding sources, regulatory policies, and other incentives.
Promote circularity as an end-of-life solution by establishing necessary infrastructure for all plant-based products and ensuring products are accepted at appropriate facilities.

As a member of the U.S. Composting Infrastructure Coalition, PBPC is working to find solutions that expand

composting infrastructure

and access to food scrap composting to bring more sustainable economic investment to areas that need it most.

Establish clear, consistent standardized terminology to support communication efforts.
Educate stakeholders on data demonstrating how the use of plant-based feedstocks to make plastics and other products will not jeopardize our ability to feed the global population.
---
Learn more about PBPC's priority issues.