8/5
USDA Releases Economic Impact Analysis of the U.S. Biobased Products Industry: Demonstrating the Impact of Plant-Based Products
---
On July 29th, the United States Department of Agriculture (USDA) released an Economic Impact Analysis of the U.S. Biobased Products Industry, providing updated figures on the economic impact of the biobased products industry. These figures – which include findings based on 2017 data, the most current year available – demonstrate the industry's powerful economic impact. The numbers show an increase in economic input from 2016, revealing exciting insight into what's possible for the biobased product industry.
Understanding the Report
In this analysis, the USDA examined seven sectors that make up the U.S. biobased products industry: agriculture and forestry, biorefining, biobased chemicals, enzymes, bioplastic bottles and packaging, forest products, and textiles.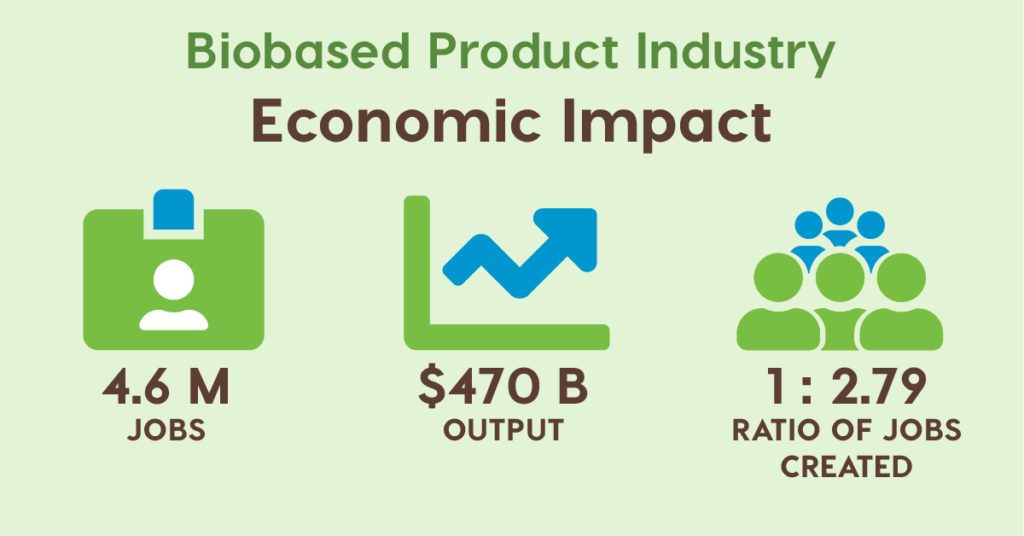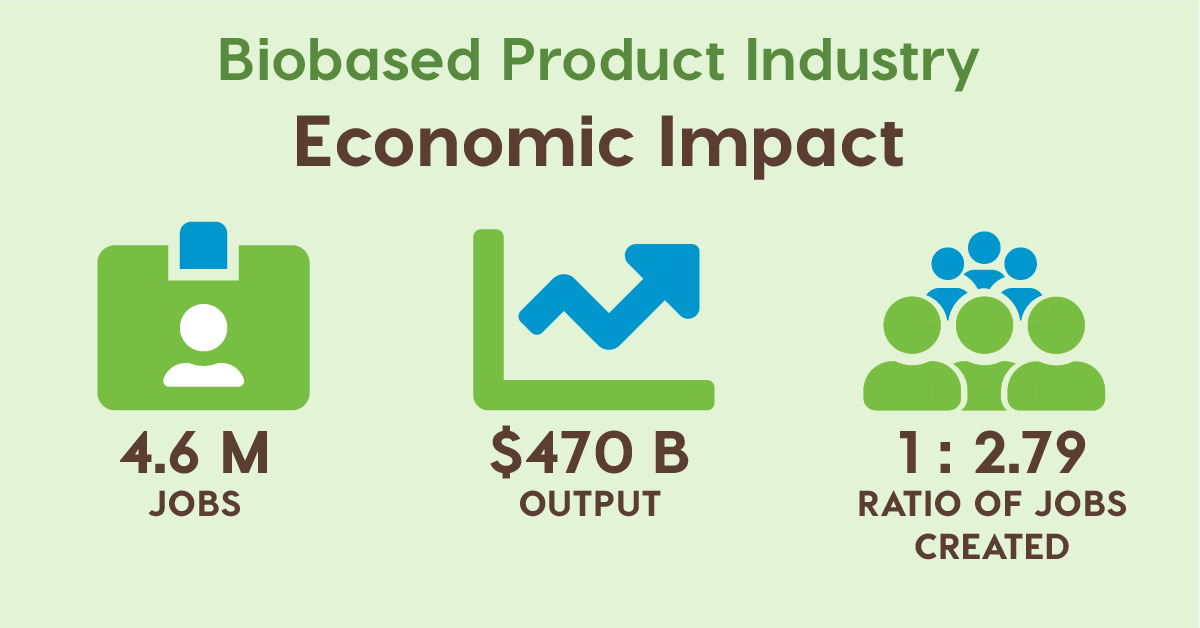 Notably, the report found that in 2017, the biobased products industry:
Supported 4.6 million American jobs through direct, indirect, and induced contributions.
Contributed a total value of $470 billion to the U.S. economy.
Generated 2.79 jobs in other sectors of the economy for every 1 biobased job.
Additionally, 1.65 million jobs directly supported the biobased product industry, resulting in 2.96 million spillover jobs. Spillover jobs mean they were created in related industries to support the purchase of goods and services from the biobased products industry. The analysis also found that $162 billion in direct sales and $309 billion in spillover sales were generated by the industry.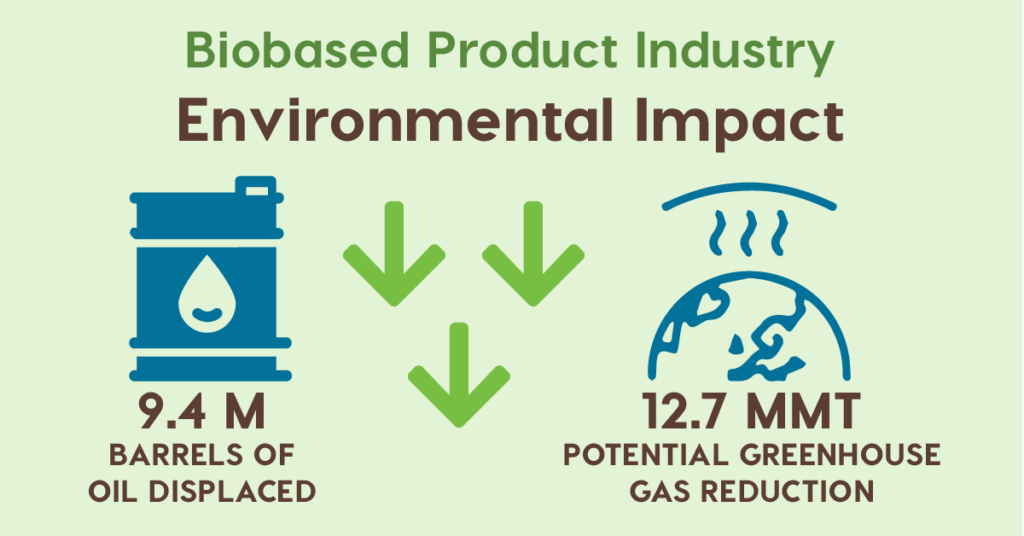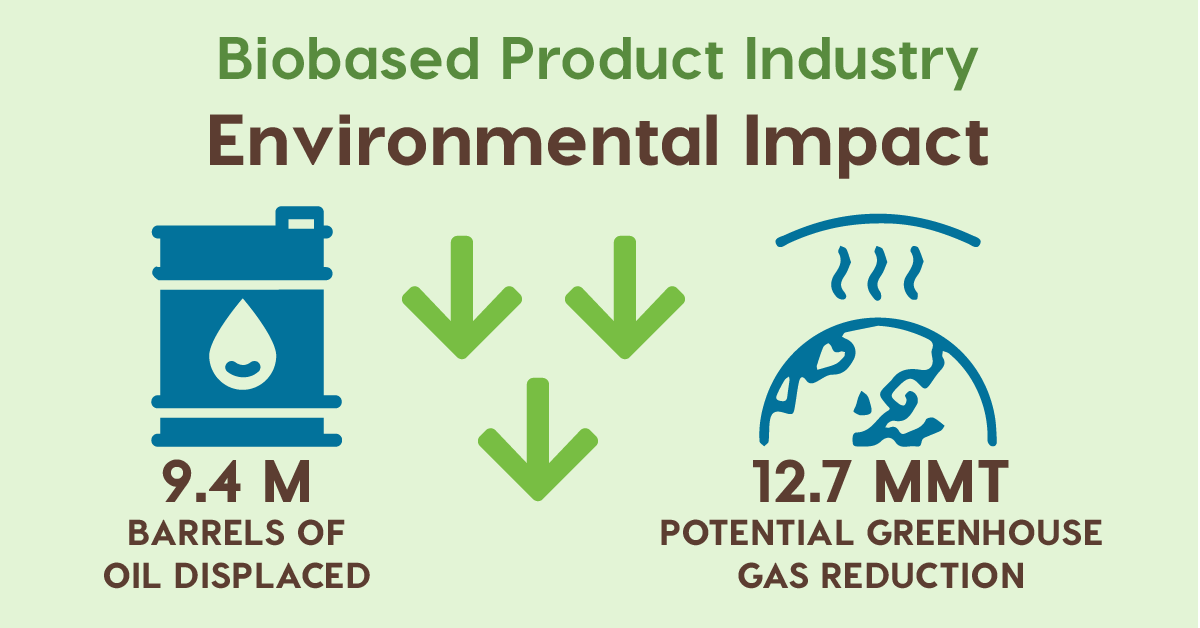 Not only are biobased products economically powerful, but they also have a substantial positive impact on the environment. The report shows they displace about 9.4 million barrels of oil a year and have the potential to reduce greenhouse gas emissions by an estimated 12.7 million metric tons of CO2 equivalents per year.
What Does This Mean?
The biobased products industry is a critical component of the bioeconomy, which is comprised of products that use renewable resources for energy, chemicals, and materials, and the people and business who build and consume them. Expanding our country's bioeconomy has substantial benefits on both an environmental and economic level. For example, in 2016, biobased products industry added around $459 billion of value. This equals an increase of $11 billion in value in 2017, and with steady investment that number will only increase.
The report also underscores the important role the bioeconomy plays for job creation nationwide. In 2017, rural states like Arkansas and Kentucky experienced job growth of 60,001 to 120,000 new jobs, with similar results seen in a number of states. Having hard data like this presents a compelling argument on why further investment is needed.
These statistics are impressive, but only just scratch the surface what's possible with increased research and funding into the biobased products industry. Investing in plant-based products creates American jobs, meets consumer demand for more eco-friendly products, and positions the food and agriculture sector as a solutions provider in addressing economic and environmental challenges domestically and globally. Ensuring that American policymakers and consumers are aware of these benefits can help develop our bioeconomy even more – and these numbers give a good place to start.
PBPC works every day to spread awareness about these important benefits through our advocacy and communication initiatives. Sign up for PBPC's newsletter to get involved!
---
---