8/2
Plant Based Leaders | Closed Loop Partners
---
Working to Advance a Circular Economy
Closed Loop Partners (CLP) may be one of the most extraordinary hybrid organizations in the circular economy space. Operating across a robust and wide-ranging ecosystem, the firm invests, innovates, and builds to advance the circular economy at scale.
With a capital management arm that manages venture capital, growth equity, private equity, and catalytic private credit investment strategies on behalf of global corporations, financial institutions, and family offices; an innovation center that brings together leading brands, designers, manufacturers, recovery systems operators, trade organizations, municipalities, policymakers, and NGOs to address the most complex material challenges for a circular economy; and an operating group, Circular Services, that is now the leading developer of circular economy infrastructure in the U.S., their impact is far-reaching.
Since it was founded nearly 10 years ago as one of the first players in the space, Closed Loop Partners has been progressing a new economic model that optimizes supply chains and natural resource management, and drives economic value.
As an organization, Closed Loop Partners recognized early on that reorienting the global economy from a take-make-waste model to a circular, waste-free model required much deeper engagement. While some systems, technologies, and infrastructure are ripe for investment and growth, others need significant testing and innovation—not to mention the industry collaboration necessary to lay the foundation for scale.
CLP's work to advance the circular economy is broad, cutting across sectors that include textiles, supply chain technology, plastics and packaging, electronics, and food and organics—and their reach includes circularity for the plant-based products industry.
Advancing the Recovery of Compostable Packaging
In late 2021, Closed Loop Partners' innovation center, the Center for the Circular Economy, expanded its work to drive circularity for compostable packaging, launching its Composting Consortium to address the increasingly urgent challenge of recovering food-contact compostable packaging—and the food scraps that come with that packaging.
"Roughly one-third of the food produced globally for human consumption is lost or wasted at different points along the value chain," said Paula Luu, Senior Project Director at the Center for the Circular Economy at Closed Loop Partners. "1.3 billion tons of food is lost or wasted every year, with a significant portion going to landfill. That's millions of taxpayer dollars spent to send wasted food to landfill, creating economic, social, and environmental risks."
1.3 billion tons of food is lost or wasted every year, with a significant portion going to landfill. That's millions of taxpayer dollars spent to send wasted food to landfill, creating economic, social, and environmental risks.
Today, compostable packaging presents potential environmental, economic, and social benefits, offering a means to reduce food waste and mitigate climate impacts by diverting food scraps within packaging toward composting infrastructure, and avoiding the greenhouse gases emitted when food waste ends up in landfills.
However, as the market for compostable packaging grows, more widely available composting infrastructure is needed to meet this growth and recover these valuable materials. Mounting food and plastic packaging waste, and increasingly urgent climate risks, are galvanizing diverse stakeholders toward concerted action, from eco-conscious customers to governments and brands.
The Composting Consortium
The Composting Consortium was created to address the fast-paced growth of the compostable packaging industry and the gap in composting infrastructure to process it.
Consortium partners are undertaking ten separate projects aimed at better aligning upstream manufacturing with downstream processing realities and crafting a roadmap for investment in technologies and infrastructure that enable the recovery of compostable food packaging and food scraps.
Last year, the Consortium issued its first brief, identifying four initial steps to creating a more resilient composting system in the U.S. This year, the Consortium is testing the disintegration of more than 30 types of certified compostable packaging at composting facilities, researching policies and incentives that can expand composting infrastructure and end markets, characterizing feedstock contamination in the organics stream, and analyzing data it collected with industry partners on composting infrastructure and collections to inform investment strategies in the U.S. It is doing this all with a big tent approach—partnering with leading brands and composting industry groups.
"To achieve an industrial composting system that can effectively divert large volumes of food waste from landfill and process the compostable packaging that may come with it requires engaging everyone in the value chain," said Luu. "The global supply chains, municipal Zero Waste managers, policymakers, consumers, and those who provide end-of-life solutions all need to be at the table."
The Center notes that the endeavor will require restructuring economic incentives to accept these materials, aligning policy creation with infrastructure expansion, increasing access to composting, and providing education to drive recovery.
New Consumer Perception Data
To that end, in July, Closed Loop Partners' Composting Consortium and the Biodegradable Products Institute published a joint consumer insights report titled "Unpacking Labeling and Design: U.S. Consumer Perception of Compostable Packaging."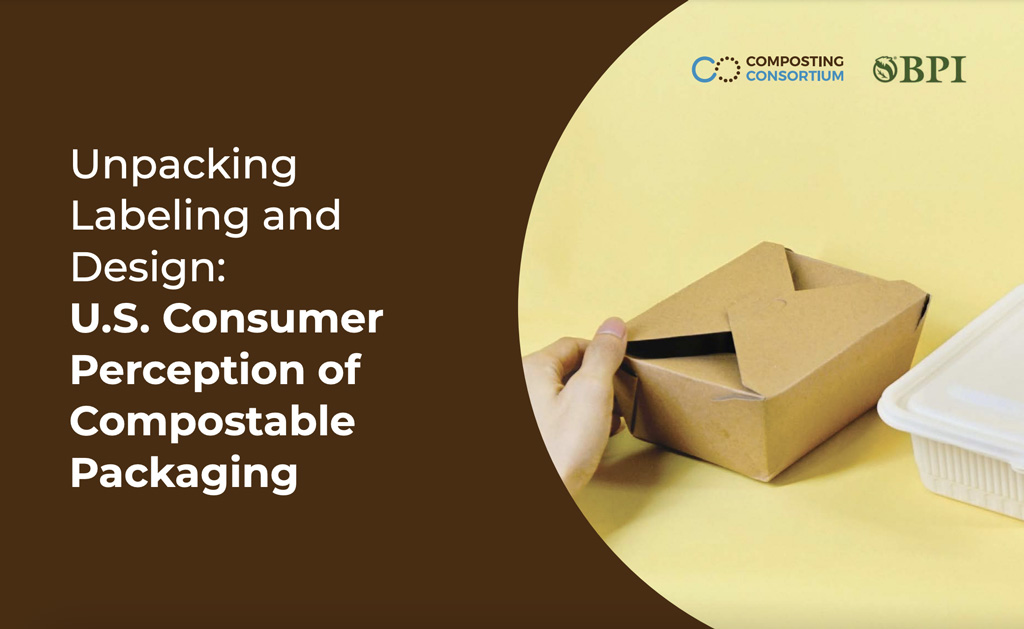 The report is based on a survey of more than 2,700 respondents across the United States, using both quantitative and qualitative approaches. It contains data about consumer habits, expectations, awareness, and the respondents' understanding of food waste, composting, plastics, food service items, and related terminology.
The study examined how consumers react to different labeling, coloring, and certifications across ten different food service items, including cold cups, clamshells, plates, cutlery, and more.
One big challenge to recovering compostable packaging is confusion around what the labels and marketing on packaging mean—and the resulting incorrect disposal of both compostable and non-compostable packaging, commonly referred to as look-alikes.
These look-alike conventional plastic products are often mistaken for their compostable counterparts, and this is one reason composters are hesitant to accept certified compostable materials in the first place. The contamination risks that these materials pose can be detrimental to a composter's operations.
"We wanted to provide a foundational study to support accurate identification of compostable packaging and to guide industry consistency," said Luu. "Clear and standardized design and labeling supports the ultimate goal of less contamination in the composting and plastics recycling streams."
The research found that four in ten survey respondents could not distinguish between the terms "biodegradable" and "compostable" despite each term having different standards for use. Phrases like "made from plants," also confused up to 50% of respondents, who believed the description meant the packaging could be thrown in the composting bin.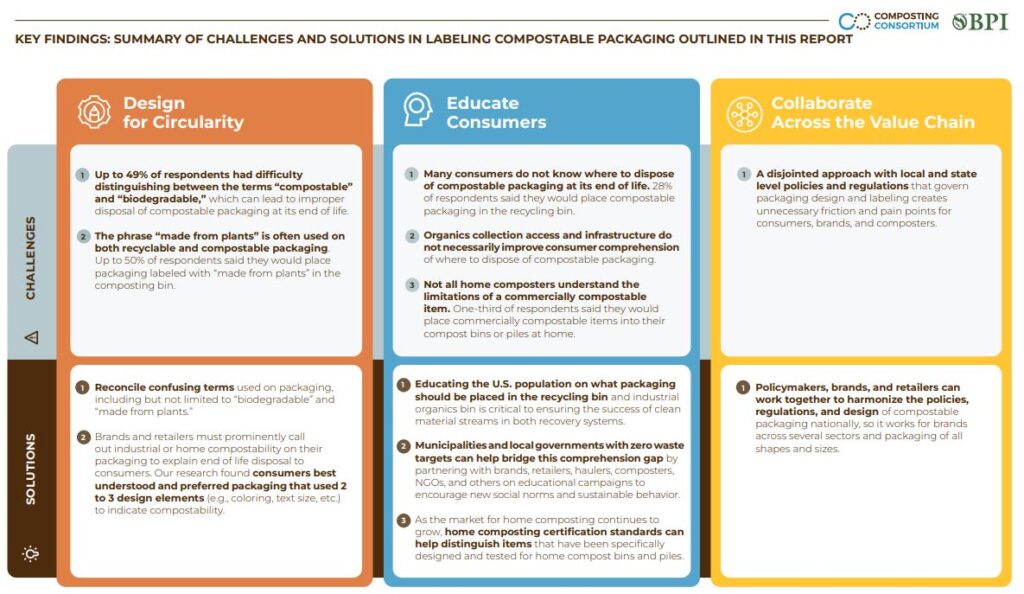 The report's authors recommend that industry mitigate confusion around these terms by consolidating "biodegradable" and "compostable" for food-contact packaging and adding qualifying language to direct accurate end-of-life disposal.

While five states have enacted labeling laws around compostable packaging, there is no harmonized national framework. The report recommends greater collaboration across the value chain and calls for policymakers, brands, and retailers to work together to harmonize the policies, regulations, and design of compostable packaging.
"We hope packaging design professionals and marketing teams utilize this research as a guide to maximize the potential of compostable packaging, ensure it ends up in the right bin, and mitigate against contamination in recycling and organics streams by preventing conventional look-alike products from landing at a commercial composting facility," said Luu.
The work of this impressive report, which proposes a number of innovative solutions, intersects with other Closed Loop Partners' efforts across their food and organics investing.
Food & Organics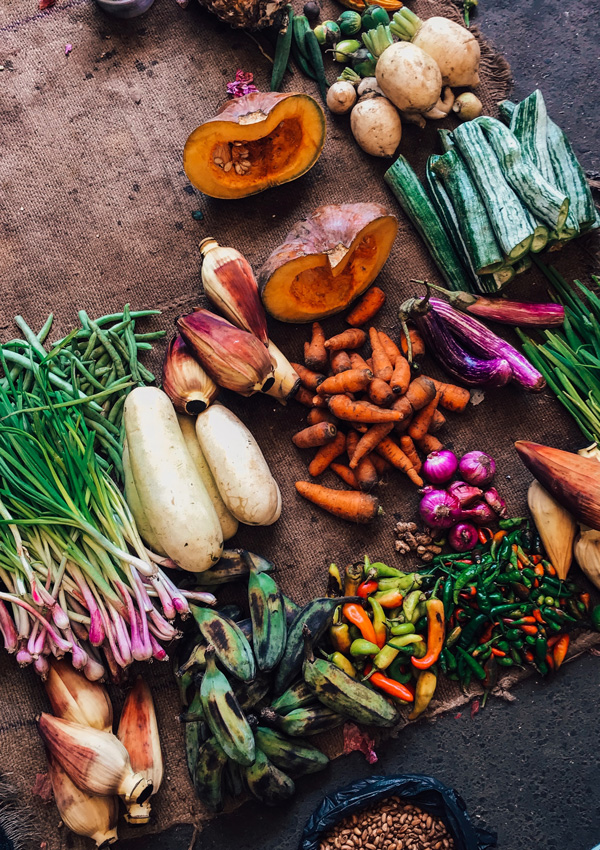 As Closed Loop Partners accelerates its work around compostable packaging recovery, it continues to advance the range of upstream and downstream solutions needed to build a more circular food and organics system—across food waste prevention, food waste recovery, and end-of-life solutions.
Across the entire firm, these solutions include new materials, applications to prolong shelf-life, food recovery solutions, regenerative agriculture innovations, and composting and anaerobic digestion systems.
To advance the circularity of the food and organics system, the firm advances solutions that can work alongside each other, helping preserve nutrients and minimize the environmental and economic impact of disposal. Building a circular economy for food and organics requires solutions at every step of the supply chain—and Closed Loop Partners is at the forefront of this work.
Working with PBPC
PBPC plays an important role in driving consensus, educating stakeholders, and engaging legislators to encourage better outcomes and less waste.
"Collaboration is critical when it comes to creating a circular economy," said Luu. "PBPC plays an important role in driving consensus, educating stakeholders, and engaging legislators to encourage better outcomes and less waste."
In the complex transition to circular systems, it is this mix of collaboration, engagement, and policy guidance that is crucial to this work.
---
Join our growing group of plant-based leaders working toward a more sustainable economy. Learn more about the benefits of PBPC membership.
---
---