9/17
PBPC Newsletter September 17, 2021
---
Welcome to the Plant Based Products Council Newsletter! If you have friends or colleagues interested in our industry, please let them know they can sign up for our newsletter. Then, read on for the latest in PBPC news and activities, as well as some of the amazing innovations, trends, and developments happening right now in the sustainability and bioeconomy world!
BIOPLASTICS WEEK 2021
Over the past week, PBPC has joined the Plastics Industry Association, the Biodegradable Products Institute, European Bioplastics, and USDA's BioPreferred Program in recognition of Bioplastics Week. Bioplastics Week is a social media campaign created to increase visibility for bioplastics by driving digital conversations via posts that feature materials such as infographics, reports, blog posts, and videos. It serves as an opportunity to educate consumers, policy makers, and other stakeholders about bioplastics.
Educational materials from PBPC were featured in this year's Resource List. To follow along the conversation on social media, use the hashtag #BioplasticsWeek or visit our Facebook, Twitter, or LinkedIn.
HELP US SUPPORT THE COMPOST ACT
The recent introduction of the COMPOST Act is an important step toward a greener and more innovative waste reduction and recovery system for our country. Consider adding your voice by clicking the button below. Your support will show lawmakers the importance of increasing access to robust programs that divert compostable materials, including food scraps, yard trimmings, and certified compostable packaging. As part of the US Composting Infrastructure Coalition (USCIC), PBPC is helping lead the charge in support of the bill to ensure a circular path for certified compostable plant-based materials.
We've made it easy to ask your legislator to support the COMPOST Act. Just click the button below and fill out the form. In addition, if your company or organization is interested in showing support for the bill, please reach out to PBPC's Kent Roberson.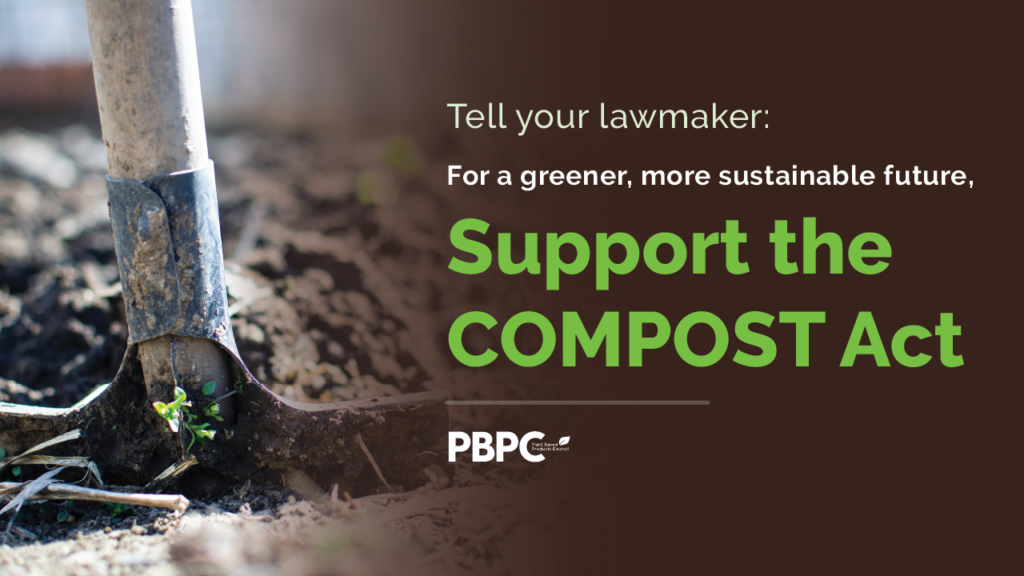 NEW BLOG POST: SHOULD WE BE MOVING TO MORE PLANT-BASED PRODUCTS BEFORE THE WASTE MANAGEMENT SYSTEM IS READY FOR IT?
The newest Setting the Record Straight blog post shares more information on the nuances of our country's waste management system and the different end-of-life options for plant-based products. Improving these systems is key for a transition to a more circular economy, where sustainable materials and goods are in use longer instead of being thrown away.
This educational blog post provides possible solutions for shifting to a more circular economy and how plant-based products play a role, as well as actions that can be taken today to help improve these systems for tomorrow.
Read the entire blog here.
PBPC SPONSORS GOVERNORS' AGRICULTURE TECHNOLOGY FORUM AT HUSKER HARVEST DAYS
On September 14th, PBPC, along with the Corn Refiners Association (CRA), Cargill, and Corteva, worked with the Food and Farm Partnership to organize and sponsor the Governors' Agriculture Technology Forum held during Husker Harvest Days in Grand Island, NE. The event was hosted by Nebraska Governor Pete Ricketts and included panels on agronomic technologies, precision ag technologies, and bioeconomy advancements. The bioeconomy panel featured Marty Muenzmaier, Cargill's Bioindustrial Group Sustainability and External Affairs Lead; Rich Altice, NatureWorks' CEO; and John Bode, CRA's President and CEO who highlighted innovative plant-based products as the foundation for growing the bioeconomy.
EVENT: GETTING TO KNOW USDA'S FOREIGN AGRICULTURAL SERVICE
On Thursday, October 7, join PBPC members and allies for a briefing hosted by USDA's Foreign Agricultural Service (FAS). FAS links U.S. agriculture to the world to enhance export opportunities and global food security. In addition to its Washington, D.C. staff, FAS has a global network of nearly 100 offices covering approximately 180 countries. These offices are staffed by agricultural attachés and locally hired agricultural experts who are the eyes, ears, and voice for U.S. agriculture around the world. FAS staff identify problems, provide practical solutions, and work to advance opportunities for U.S. agriculture and support U.S. foreign policy around the globe.
During the briefing, participants will have a chance to hear from USDA officials on the many FAS-led opportunities and programs that can help promote American plant-based products on the global marketplace. If interested in attending, please reach out to PBPC's Keniece Barbee for more information.
PLANT BASED INNOVATIONS
Almost every day we see new developments in the plant-based space. Here are a few of our favorites that provide insights on the industry today and what's ahead for circular innovations.
The Verge: Samsung Releases Eco-Friendly Watchbands Made From Apple Peel
CNBC: Solugen Is Making Chemicals From Sugar, Not Petroleum
Packaging World: Lifoam Industries Commercially Launches Sustainable Packaging Solution For Cold Chain Shipping
SUSTAINABILITY TRENDS & NEWS
As more consumers seek environmentally-friendly products, corporations are adapting to meet these demands through sustainable packaging solutions. Here are some of the top stories covering these trends and providing insights on the latest industry news.
TechCrunch: Meet Retail's New Sustainability Strategy: Personalization
The New York Times: Building A More Sustainable Car, From Headlamp To Tailpipe
Axios: Walmart Joins The Green Bond Party With $2 Billion Deal
GOVERNMENT UPDATES
With environmental reform being a top priority for the Biden administration, there are constantly new developments in the regulatory space on the issue. Here are a few of the top happenings on Capitol Hill and in the U.S. legal landscape.
The New York Times: California Aims To Ban Recycling Symbols On Things That Aren't Recyclable
Bloomberg: Democrats Advance Housing, Climate Goals In Transportation Bill
The Hill: Democrats Propose New Funding For Climate, Weather Research
PBPC MEMBER NEWS
The dedicated work of our members toward a more sustainable future never ceases to amaze us. From setting sweeping environmental commitments, to partnering with others to make sustainable solutions more accessible, to launching new plant-based materials. Below, find some of the impressive work of our members over the last two weeks.
ADM: ADM Dialogue Explores What's Next for Sustainable Agriculture
Cargill: Learn More about the Land Innovation Fund for Sustainable Livelihoods
Danimer Scientific:Using Soybean Oil in Biodegradable Plastic Production
Footprint: Footprint Announces European R&D Center in Eindhoven, The Netherlands
Roquette: POLYSORB®: Using Isosorbide To Enhance The Thermal Properties Of Polymers
Novamont: B-FERST Project: Novamont Partners with European Project Aimed at Integrating the Valorisation of Biowaste with Circular and Bio-Based Value Chains
PepsiCo: The Hill: PepsiCo Plans Reduction In Use Of Virgin Plastic
---
---