10/28
PBPC Newsletter October 28, 2022
---
Welcome to the Plant Based Products Council Newsletter! If you have friends or colleagues interested in our industry, please let them know they can sign up for our newsletter. Then, read on for the latest in PBPC news and activities, as well as some of the amazing innovations, trends, and developments happening right now in the sustainability and bioeconomy world!
PBPC'S INAUGURAL SPEAKER SERIES: WATCH NOW!
PBPC kicked off our Speaker Series on Oct. 20, convening innovators and leaders to discuss the commercialization of bioproducts and how the industry brings innovations from idea to market. Watch the recording here to learn about insights, challenges, and solutions facing the industry today or read a breakdown of the discussion's highlights in our blog here.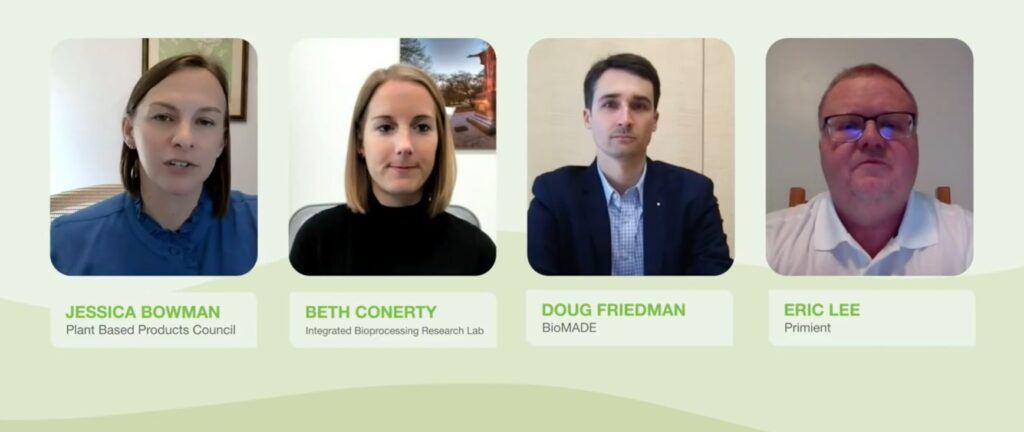 Stay tuned for our second event in December where we will discuss how consumer-facing brands and corporations are adopting plant-based products to reach climate and sustainability goals. Visit our website to find out more and keep an eye out in your inbox for a registration link.
SAVE THE DATE! PBPC 2023 ANNUAL CONFERENCE: CIRCULAR SOLUTIONS
PBPC is excited to be planning our first-ever conference. On Mar. 27-29, 2023, PBPC will bring together our members, industry leaders, policymakers, and other stakeholders for an informative networking conference in Washington, D.C. Stay tuned for more information and registration details in the coming weeks.
If you're interested in speaking at or sponsoring the PBPC conference, please reach out to PBPC's Keniece Barbee.
PBPC JOINS FOODSERVICE PACKAGING INSTITUTE FOR LAUNCH OF NEW STUDY: COMPOSTABLE CHICAGO
Restaurants, institutions, and commercial venues are increasingly seeking improvement in materials management through recycling and composting. Understanding the role compostable foodservice packaging can play to streamline consumer handling of food scraps and divert more high-value scraps to composting is a high priority. Some composters may hesitate to accept post-consumer food scraps from foodservice venues due to the potential for contamination of the material stream with non-compostable packaging and other non-organic materials.
PBPC joined several industry partners for the launch of Foodservice Packaging Institute's new study, CompostAble Chicago, which examines existing Chicago-based organics recovery programs that accept compostable foodservice packaging and what creates program success.
You can find out more and view the full report here. Check out additional coverage of the study from Waste360 here.
PBPC IS HIRING!
PBPC is on the search for a new Sustainability Manager! In this role, you will lead the development and execution of PBPC sustainability strategy at the international, federal, and state levels through continuous communication and interaction with relevant stakeholders, strategic partners, and alliances on agricultural, manufacturing processes, and product sustainability.
More information about this role is available here. Applicants should submit resumes to [email protected] with "Manager, Sustainability" in the subject line.
PBPC'S MEMBERSHIP PROGRAM
Interested in becoming a PBPC member? All PBPC members receive a variety of benefits that provide their organization a voice in Washington, while helping them stay up-to-date on the latest policy developments, communicate with their audiences, access valuable insights, and more. Tiered membership levels are available to fit the needs of any member of the plant-based products supply chain. Visit our website or reach out to PBPC's Keniece Barbee to learn more.
PBPC'S LATEST PLANT-BASED LEADER: SWAY
Early-stage entrepreneurs have a few proven pathways to draw attention to their products. And when innovation is a central plank of the industry, winning a contest is one surefire way to generate the heat and light that can propel a nascent company to center stage.

PBPC member and latest Plant-Based Leader, Sway, a packaging company that utilizes seaweed as its feedstock, is just three years old. Yet, Sway has already been recognized in two different contests backed by some of the biggest names in retail and fashion.

Check out the latest installment in our Plant-Based Leader series to learn more about Sway, and how they are harnessing the potential of seaweed to create more sustainable products.
PLANT BASED INNOVATIONS
Almost every day we see new developments in the plant-based space. Here are a few of our favorites that provide insights on the industry today and what's ahead for circular innovations.
Fierce Biotech: A green revolution: FDA hands down emergency OK to plant-based surgical face mask
Bloomberg: Tesla's Vegan Leather Supplier Bets Material Will Be Used Everywhere
CBS News: Edible utensils, straws and cups becoming more popular
SUSTAINABILITY TRENDS & NEWS
As more consumers seek environmentally-friendly products, corporations are adapting to meet these demands through more sustainable solutions. Here are some of the top stories covering these trends and providing insights on the latest industry news.
Vice: Government Scientists Make Breakthrough in Recycling Plastics That End Up In Landfills
The Washington Post: How you can make more socially conscious Halloween candy choices
The Hill: US only recycled 5 percent of plastic waste in 2021: Greenpeace report
Grist: All that plastic in the ocean is a climate change problem, too
GOVERNMENT UPDATES
With environmental reform being a top priority for the Biden administration, there are constantly new developments in the regulatory space on the issue. Here are a few of the top happenings in the Administration, on Capitol Hill and in the U.S. legal landscape.
Inside Climate News: The US May Have Scored a Climate Victory in Congress, but It Will Be in the Hot Seat With Other Major Emitters at UN Climate Talks
The Washington Post: Half of voters say climate change is important in midterms, poll finds
PBPC MEMBER NEWS
The dedicated work of our members toward a more sustainable future never ceases to amaze us. From setting sweeping environmental commitments, to partnering with others to make sustainable solutions more accessible, to launching new plant-based materials. Below, find some of the impressive work of our members over the last two weeks.
PepsiCo: These 4 brands have had long lives—here's how they've stayed relevant
PepsiCo: PepsiCo UK invests in sustainable food packaging innovations
PepsiCo: Major brands call for access to 800K metric tons of chemically recycled plastic by 2030
Cargill: Cargill aims to boost ships' use of biofuel, methanol to cut emissions
Footprint: f'real and Footprint Announce Partnership to Co-create Plastic-Free Cup
---
---