11/11
PBPC Newsletter November 11, 2022
---
PBPC is pausing our newsletter until Friday, Dec. 2, due to the Thanksgiving holiday. The PBPC team hopes you have a wonderful Thanksgiving weekend.
Welcome to the Plant Based Products Council Newsletter! If you have friends or colleagues interested in our industry, please let them know they can sign up for our newsletter. Then, read on for the latest in PBPC news and activities, as well as some of the amazing innovations, trends, and developments happening right now in the sustainability and bioeconomy world! If you missed our last edition, check it out using the link below.
PBPC Newsletter October 28, 2022
PBPC 2023 ANNUAL CONFERENCE: CIRCULAR SOLUTIONS – REGISTER NOW!
Registration for our 2023 Annual Conference: Circular Solutions is now open! On Mar. 27-29, 2023, PBPC will bring together our members, industry leaders, policymakers, and other stakeholders to discuss today's bioeconomy landscape and what lies ahead in Washington, D.C.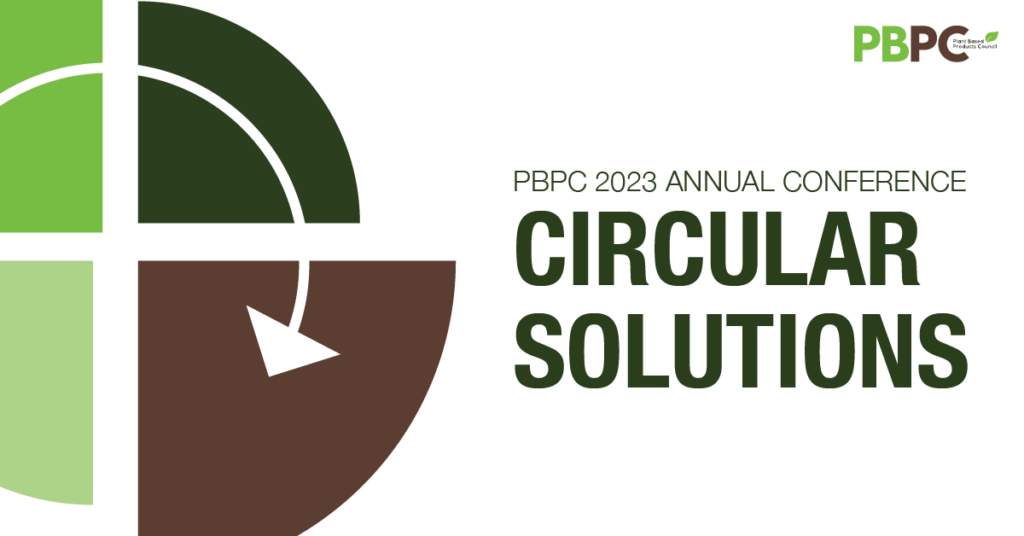 Visit our website to learn more about the conference, registration, and our call for speakers. Early-bird pricing is available through Jan. 15, and attendees can book reduced rates at the JW Marriot through Mar. 6.
Interested in speaking or know someone with insights to share? Fill out the form here to submit yourself or someone else for consideration.
PBPC JOINS THE U.N. CLIMATE CHANGE COP MEETING
PBPC is again joining the U.N. Climate Change Conference of the Parties this year (COP27) to elevate the role plant-based products and a circular economy can plan in addressing climate change. COP27 is taking place Nov. 6-18, in Sharm el Sheikh, Egypt, where world leaders will convene to take action towards the climate goals of the Paris Agreement and the U.N. Framework Convention on Climate Change. PBPC will partner with allied organizations, including the Business Council for Sustainable Energy (BCSE), to host a virtual exhibit and side event to bring PBPC's message to this international community.
On Nov. 16 at 9:45 AM Eastern, tune in here to see PBPC Board Member, John Bode, participate in a discussion on Integrating Across Sectors: Business Leaders in Energy, Buildings, & Circular Economy.
PBPC PARTICIPATED IN A WHITE HOUSE LISTENING SESSION ON THE BIOECONOMY EXECUTIVE ORDER
PBPC's Executive Director, Jessica Bowman, was invited to participate in a Nov. 4 White House listening session focused on the Executive Order on Advancing Biotechnology and Biomanufacturing Innovation for a Sustainable, Safe, and Secure American Bioeconomy.

Bowman was asked to provide input on food and agricultural innovations that could be delivered through advances in biotechnology and biomanufacturing in the short-term and long-term, along with thoughts on how the government can engage the private sector in innovating to achieve these objectives. Her input centered around a number of opportunities to expand the plant-based products industry, including the need for scale-up infrastructure, NAICS codes, a modernized USDA BioPreferred Program, harmonized bioeconomy terminology, data to demonstrate product benefits, and incentives to promote the manufacture and adoption of plant-based products.
PBPC EXECUTIVE DIRECTOR JESSICA BOWMAN FEATURED ON GOOD GARBAGE PODCAST
PBPC's Executive Director Jessica Bowman recently appeared on an episode of Good Garbage, a podcast exploring the landscape and innovations of regenerative packaging. In her conversation with host Ved Krishna, Jessica outlined PBPC's organizational goals of advocating for policies that tap the full potential of the biobased consumer product industry.
Hear Jessica's insights on how innovations of renewable feedstocks can move us toward a circular economy here.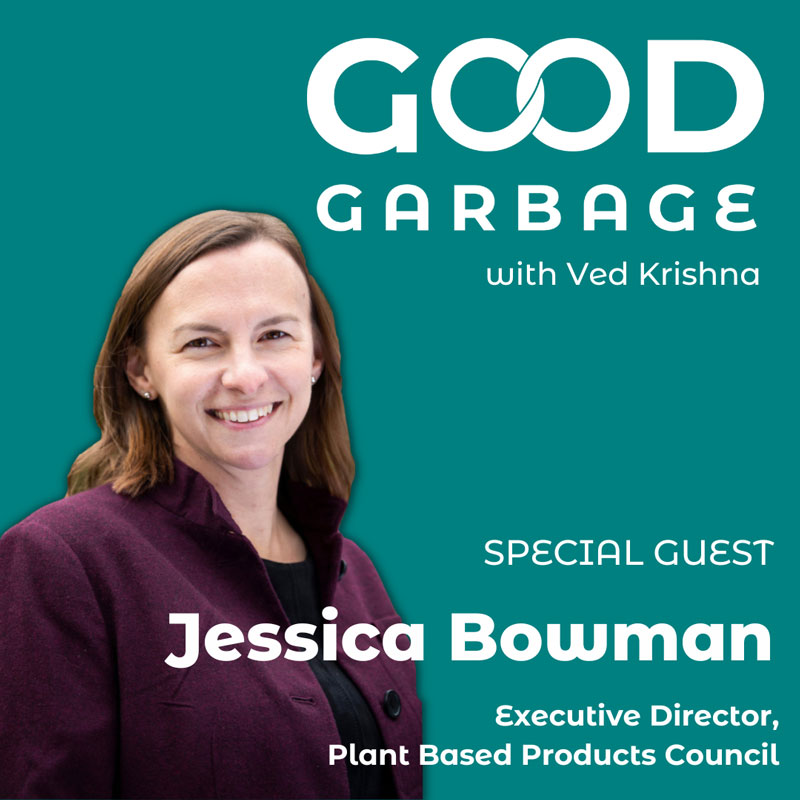 PBPC'S LATEST PLANT-BASED LEADER: BRENT SHANKS
The goal of shifting consumer products away from fossil fuels and toward plant-based materials requires effort and input from many different experts, including scientists, engineers, and entrepreneurs.

PBPC Advisory Board member and Plant-based Leader Brent Shanks is doing it all: teaching, making discoveries in the lab, founding start-ups, and driving those start-ups' commercial successes. With more than two decades of experience in green chemistry at Iowa State University and the launch of Pyrone Systems, Inc., a startup bringing plant-based products to market, Brent is a driving force in plant-based innovation.

Check out the latest installment of our Plant-Based Leader series to learn more about Brent and how his work in green chemistry is making waves in the transition from petroleum-based consumer products to plant-based alternatives.
PBPC'S INAUGURAL SPEAKER SERIES EVENT: WATCH NOW!
PBPC kicked off our Speaker Series on Oct. 20, convening innovators and leaders to discuss the commercialization of bioproducts and how the industry brings innovations from idea to market. Watch the recording here to learn about insights, challenges, and solutions facing the industry today or read a breakdown of the discussion's highlights in our blog here.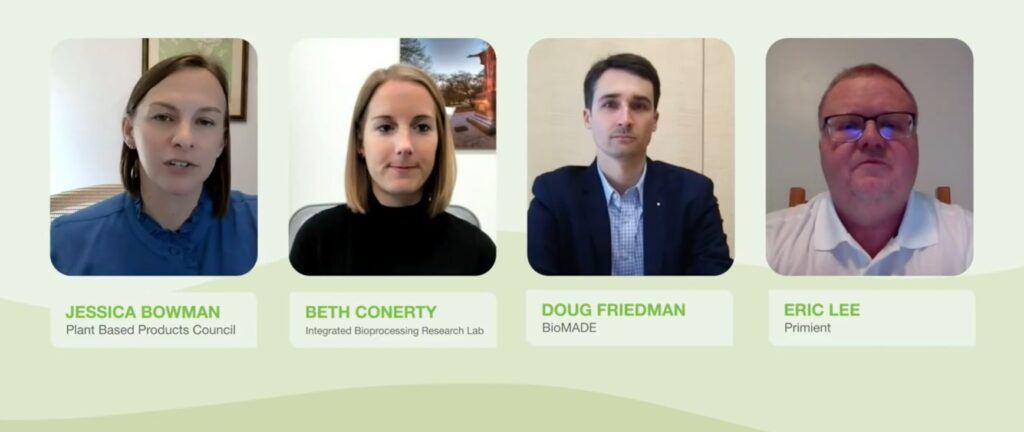 Stay tuned for our second event on Dec. 16, at 1 PM Eastern, where we will discuss how consumer-facing brands and corporations are adopting plant-based products to reach climate and sustainability goals. Visit our website to find out more and keep an eye on your inbox for a registration link.
PBPC'S MEMBERSHIP PROGRAM
Interested in becoming a PBPC member? All PBPC members receive a variety of benefits that provide their organization a voice in Washington, while helping them stay up-to-date on the latest policy developments, communicate with their audiences, access valuable insights, and more. Tiered membership levels are available to fit the needs of any member of the plant-based products supply chain. Visit our website or reach out to PBPC's Keniece Barbee to learn more.
PLANT BASED INNOVATIONS
Almost every day we see new developments in the plant-based space. Here are a few of our favorites that provide insights on the industry today and what's ahead for circular innovations.
MIT Sloan Management Review: Why Businesses Need to Embrace the Bioeconomy
Inverse: THIS PLANT-BASED E-BIKE TAKES SUSTAINABILITY TO A WHOLE NEW LEVEL
Vogue: Materials startup asks brands to eliminate virgin leather if they want alternative
SUSTAINABILITY TRENDS & NEWS
As more consumers seek environmentally-friendly products, corporations are adapting to meet these demands through more sustainable solutions. Here are some of the top stories covering these trends and providing insights on the latest industry news.
The Wall Street Journal: Lego Fanatics Come Apart Over New Packaging
MarketWatch: U.S. tosses 300 lbs. of plastic per person annually. Why we're getting worse at recycling.
Bloomberg: Fast Fashion Waste Is Choking Developing Countries With Mountains of Trash
GOVERNMENT UPDATES
With environmental reform being a top priority for the Biden administration, there are constantly new developments in the regulatory space on the issue. Here are a few of the top happenings in the Administration, on Capitol Hill and in the U.S. legal landscape.
Grist: The plastics industry says its bags are recyclable. California's attorney general wants proof.
The Washington Post: For Gen Z voters, combating climate change is top of mind
The New York Times: What Is COP27? And Other Questions About the Big U.N. Climate Summit
Farm Progress: Census of Agriculture coming soon
PBPC MEMBER NEWS
The dedicated work of our members toward a more sustainable future never ceases to amaze us. From setting sweeping environmental commitments, to partnering with others to make sustainable solutions more accessible, to launching new plant-based materials. Below, find some of the impressive work of our members over the last weeks.
Smile Compostable Solutions: Smile Compostable Solutions named winner at inaugural awards event
ADM: ADM, Bunge sustainability efforts recognized
Primient: Primient receives energy award
---
---