11/11
PBPC Newsletter November 11, 2021
---
Welcome to the Plant Based Products Council Newsletter! If you have friends or colleagues interested in our industry, please let them know they can sign up for our newsletter. Then, read on for the latest in PBPC news and activities, as well as some of the amazing innovations, trends, and developments happening right now in the sustainability and bioeconomy world! If you missed our last edition, check it out using the link below.
PBPC Newsletter October 29, 2021
NEW BLOG POST: HOW DO PLANT-BASED PRODUCTS RESULT IN LESS CARBON EMISSIONS COMPARED TO CONVENTIONAL PRODUCTS?
In our latest blog post, we explore the role biogenic carbon emissions play in the lifecycle of plant-based products. Unlike the burning of fossil fuels, these emissions do not contribute to elevated levels of atmospheric carbon. Instead, these insignificant emissions from fermentation and other processes used in the development of bioproducts cycle out of the atmosphere when they are picked up by the next generation of agricultural crops.
Check out the entire post to learn more about biogenic carbon emissions here.
PBPC PARTICIPATING IN UN CLIMATE CHANGE COP26
Through November 12, the U.K. is hosting the UN Climate Change Conference (COP26) which focuses on reaching the goals of the UN Framework Convention on Climate Change and the Paris Agreement. During the meeting, PBPC partnered with allied organizations, including the Business Council for Sustainable Energy (BCSE) and US Green Building Council, to host a virtual exhibit and side event where we highlighted the role of plant-based products and a circular economy in addressing climate change.
Learn more about PBPC's role at COP26 and how plant-based products can support a "net-zero" future here. You can view Jessica's video with BCSE here. View the side event: "Powering Forward in the Critical Decade: Business Leaders in Energy, Building & Circular Economy" here.
PBPC SUCCESSFULLY SECURED FUNDING REQUESTS IN SENATE APPROPRIATIONS REPORTS
Earlier this year, PBPC successfully secured report language for the FY22 Agriculture appropriations bill approved by the Senate Appropriations Committee instructing USDA to conduct the following federal research that can help advance our policy agenda: (1) a USDA study of the U.S. biobased economy compared with other countries, and (2) a collection by USDA of life cycle analyses of the main biobased products used in chemicals, plastics, and fibrous materials.
In mid-October, the Senate Appropriations Committee released bill and report language for the nine appropriations bills that have not yet been voted on by the committee. PBPC had requested report language for the FY22 Interior/EPA appropriations bill for research examining how increased composting of organic waste and compostable bioplastics could reduce GHG emissions from landfills. The Interior/EPA appropriations report language released by the committee includes this research within a larger EPA research initiative on ways to reduce emissions across the municipal waste management lifecycle.
The federal government is currently funded under a continuing resolution that expires in December. The House and Senate must take action on all FY 2022 appropriations bills or another continuing resolution in order fully fund the federal government through the remainder of FY 2022.
PBPC WELCOMES GLOBAL METHANE PLEDGE, HIGHLIGHTS ROLE OF PLANT-BASED PRODUCTS AND COMPOSTING
On October 20, PBPC sent a letter to Gina McCarthy, Assistant to the President and National Climate Advisor, welcoming the Biden Administration's efforts to reduce methane emissions. The letter shared how plant-based products can support the Global Methane Pledge, a new initiative launched at COP26 to reduce global methane emissions by 30% from 2020 levels by 2030. PBPC also highlighted the opportunity to significantly reduce landfill methane emissions through expansion of infrastructure to support composting of food scraps and other compostable materials
You can read the full letter on the PBPC website.
HELP US SUPPORT THE COMPOST ACT
The recent introduction of the COMPOST Act is an important step toward a greener and more innovative waste reduction and recovery system for our country. Consider adding your voice by clicking the button below. Your support will show lawmakers the importance of increasing access to robust programs that divert compostable materials, including food scraps, yard trimmings, and certified compostable packaging. As part of the US Composting Infrastructure Coalition (USCIC), PBPC is helping lead the charge in support of the bill to ensure a circular path for certified compostable plant-based materials.
We've made it easy to ask your legislator to support the COMPOST Act. Just click the button below and fill out the form.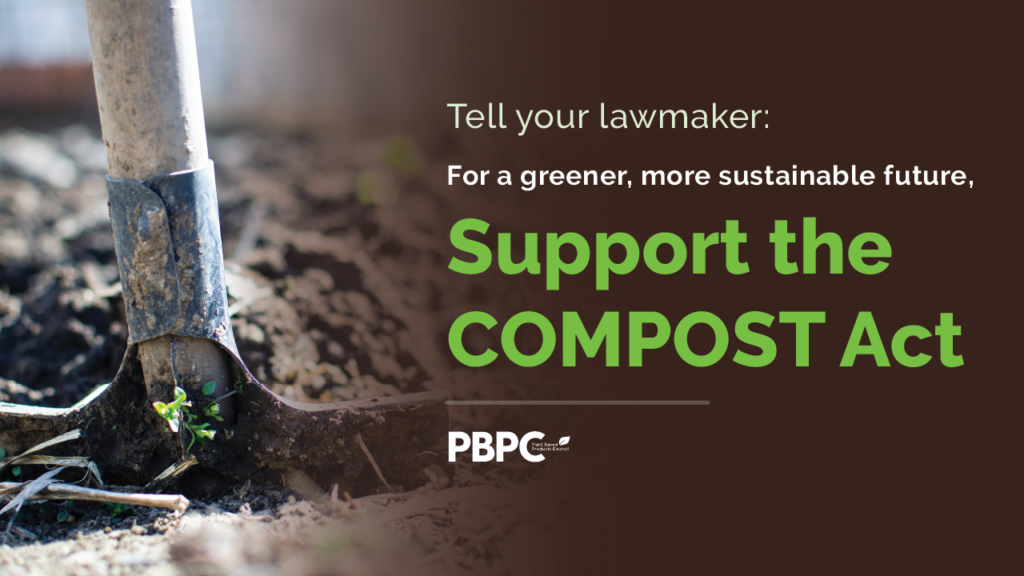 DETAILS ARE AVAILABLE ON PBPC'S 2022 MEMBERSHIP PROGRAM
Interested in becoming a PBPC member? Details are now available for our 2022 Membership Program. All PBPC members receive a variety of benefits that provide their organization a voice in Washington, while helping them stay up-to-date on the latest policy developments, communicate with their audiences, access valuable insights and more. Tiered membership levels are available to fit the needs of any member of the plant-based products supply chain. Visit our website or reach out to PBPC's Keniece Barbee to learn more.
PLANT BASED INNOVATIONS
Almost every day we see new developments in the plant-based space. Here are a few of our favorites that provide insights on the industry today and what's ahead for circular innovations.
Forbes: Seaweed-Based Sway Is A Way For Single-Use Plastic To Disappear
World Economic Forum: How Mushrooms And Microorganisms Could Transform Food Packaging
Technology Networks: Billions Of Tons of Biowaste Could Be Used To Make Glass and Solar Cells
SUSTAINABILITY TRENDS & NEWS
As more consumers seek environmentally-friendly products, corporations are adapting to meet these demands through sustainable packaging solutions. Here are some of the top stories covering these trends and providing insights on the latest industry news.
The Washington Post: Alaska Airlines Is Getting Rid Of Plastic Bottles And Cups For Water
Grocery Dive: How Walmart Is Testing Sustainable Bags
The Guardian: Are Clothes Made From Recycled Materials Really More Sustainable?
GOVERNMENT UPDATES
With environmental reform being a top priority for the Biden administration, there are constantly new developments in the regulatory space on the issue. Here are a few of the top happenings on Capitol Hill and in the U.S. legal landscape.
Bloomberg: Methane Agreements Improve American Ability To Lead On Climate
The Washington Post: House Democrats Subpoena Oil Companies Over Climate Disinformation
New York Times: Latest National Climate Plans Still Fall Far Short, U.N. Report Warns
PBPC MEMBER NEWS
The dedicated work of our members toward a more sustainable future never ceases to amaze us. From setting sweeping environmental commitments, to partnering with others to make sustainable solutions more accessible, to launching new plant-based materials. Below, find some of the impressive work of our members over the last two weeks.
Cargill: Cargill Among 12 of the Largest Global Ag Companies that Pledge to Address Climate Change through Sustainable Development Goals
Gevo: Are Green Jet Fuels Ready for Takeoff?
Gevo: ADM, Gevo Sign MoU to Produce up to 500M Gallons of Sustainable Aviation Fuel
PepsiCo: Forbes: 4 Ways PepsiCo Is Driving Innovative Packaging Solutions
PepsiCo: Learn More about Pep+ Regenerative Agriculture Goals
Roquette: Iowa State University Data Shows Excellent Results Demonstrating Roquette Plant Based Renewable Fertilizers
SmartSolve: Greenwashing: What it is and Why it's Important
SmartSolve: 40 Global Packaging Waste Facts You Need to Know
Tate & Lyle: T&L Delivers on its Commitment to Eliminate Use of Coal in All Its Operations
TIPA: The Circular Economy at COP26
TIPA: Campaigners Say Compost is an Essential Solution for COP26 Leaders to Reach Net Zero
---
---