5/26
PBPC Newsletter May 26, 2023
---
Welcome to the Plant Based Products Council Newsletter! If you have friends or colleagues interested in our industry, please let them know they can sign up for our newsletter. Then, read on for the latest in PBPC news and activities, as well as some of the amazing innovations, trends, and developments happening right now in the sustainability and bioeconomy world! If you missed our last edition, check it out using the link below.
SECRETARY GRANHOLM ANNOUNCES CLEAN FUELS AND PRODUCTS SHOT
Earlier this week, U.S. Secretary of Energy Jennifer Granholm announced The Clean Fuels and Products Shot. According to the Idaho National Laboratory, the program is "a new Department of Energy initiative to devote national scientific resources to create 100 and 400 million tons of clean fuels and chemicals per year by 2035 and 2050, respectively. The Clean Fuels and Products Shot will help accelerate the widespread adoption of low-carbon solutions such as bio-based aviation fuels and bioplastics, products that will reduce greenhouse gas emissions in the U.S. The effort is part of the Energy Department's Energy Earthshots Initiative, which accelerates breakthroughs of more abundant, affordable and reliable clean energy solutions within the decade."
NEW PLANT BASED LEADERS BLOG: BIOPREFERRED PROGRAM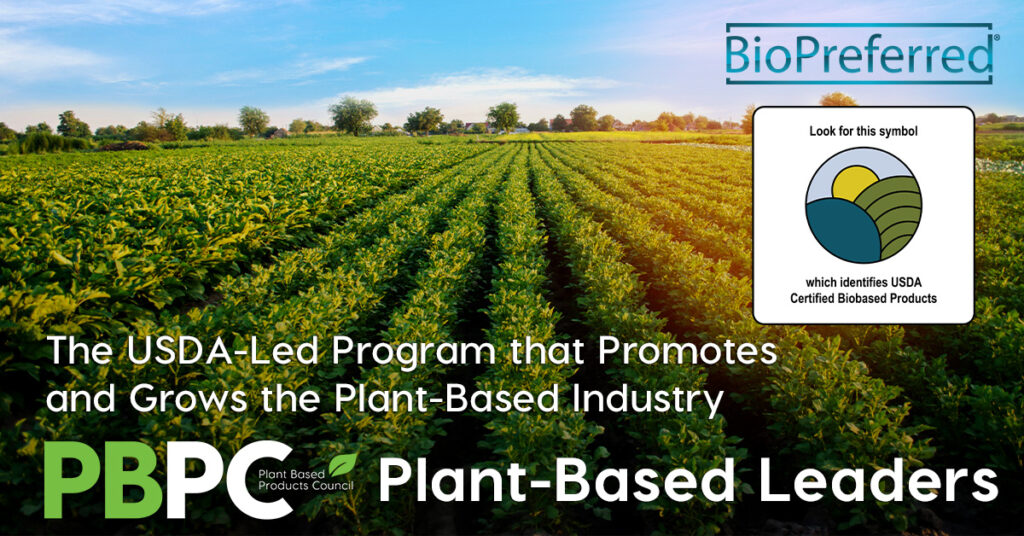 The latest blog in our Plant Based Leaders series spotlights the BioPreferred Program, the division within U.S. Department of Agriculture (USDA) that is leading the transition to biobased products. For two decades, this small but deeply committed group of experts has promoted biobased products, the U.S. bioeconomy, and the many companies and agricultural interests that are involved in this fast-growing field.
The team's work on biobased products includes raising awareness, increasing federal procurement, facilitating certification and product labeling, and managing the BioPreferred Program Catalog. These high-profile and impactful endeavors create opportunities for companies across the plant-based product space. Learn more here.
SCHMIDT FUTURES' BIOFUTURES PROGRAM TO LAUNCH VIRTUAL INSTITUTE ON FEEDSTOCKS OF THE FUTURE (VIFF)
Schmidt Futures and its BioFutures Program are preparing to launch a new interdisciplinary research initiative: the Virtual Institute on Feedstocks of the Future (VIFF). VIFF will support U.S.-based science and technology (S&T) research on the uses of underutilized biomass carbon sources as feedstocks for biomanufacturing.
The BioFutures Program aims to catalyze a future for a vibrant, competitive, resilient, and circular U.S. bioeconomy in which biological resources are sustainably transformed into food, feed, energy, and biomaterials. The BioFutures Program builds on the work of the Schmidt Futures Task Force on Synthetic Biology and the Bioeconomy, as well as its national strategy, The U.S. Bioeconomy: Charting a Course for a Resilient and Competitive Future.
If you would like to receive updates about the BioFutures Program and their new VIFF initiative, click here.
PBPC RESPONDS TO DOE CIRCULARITY REQUEST FOR INFORMATION
On May 1, PBPC responded to the U.S. Department of Energy's (DOE) request for information on the key opportunities and challenges associated with increased material circularity. The comments will inform DOE's upcoming efforts to advance circular economy technologies and systems in the United States. PBPC's comments focused on the role of plant-based products in the circular economy, end-of-life opportunities, and the environmental benefits of biobased materials. View PBPC's comments here.
"By 2030, if two-thirds of conventional plastics around the globe were replaced by plant-based alternatives, the reduction of emissions would be equivalent to removing from the atmosphere the annual energy use of over 80 million homes."
PBPC PARTICIPATES IN LISTENING SESSION ON EXPANDING BIOMANUFACTURING
PBPC's Executive Director, Jessica Bowman, recently participated in a listening session organized by the Biomanufacturing Interagency Working Group established under President Biden's September 2022 Executive Order on Advancing Biotechnology and Biomanufacturing Innovation. The session focused on the barriers and needs when it comes to expanding domestic biomanufacturing. She discussed the need for federal support to increase pilot and demonstration scale biomanufacturing infrastructure.
ICYMI: PBPC WELCOMES NEW MEMBER:
NATIONAL INDUSTRIAL HEMP COUNCIL OF AMERICA
PBPC is thrilled to welcome a new supporter member, the National Industrial Hemp Council of America (NIHC). Advocating for members ranging from the farm to consumers, NIHC works to further market development, assist members in entering the industry, and educate consumers on industrial hemp and its applications. PBPC looks forward to partnering with NIHC on Capitol Hill and beyond to advance the plant-based products industry's policy goals.
Learn more at NIHC's Facebook, LinkedIn, and Twitter channels.
PBPC'S 2022 ANNUAL REPORT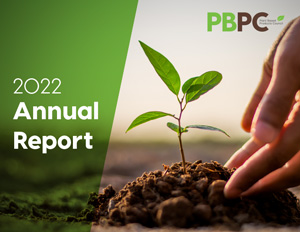 PBPC's 2022 Annual Report celebrates PBPC's milestones and progress in 2022. Learn about PBPC's work to drive the growth of the plant-based products industry and achieve a more circular economy.
JOIN THE FIGHT FOR PLANT-BASED PRODUCTS IN THE 2023 FARM BILL
PBPC advocates for a shift toward a more circular bioeconomy through greater adoption of renewable, plant-based materials supported by appropriate end-of-life infrastructure. The 2023 Farm Bill presents an opportunity for the U.S. to demonstrate leadership in growing a domestic bioeconomy that includes biobased products. Below are PBPC's priorities for advancing the biobased products industry through the 2023 Farm Bill. We'll keep you updated on these items' progress as Congress moves through the Farm Bill process.
Establish Uniform Definitions for Common Biobased Product Terminology
Moderize USDA's BioPreferred Program
Create NAICS codes for Biobased Product Manufacturing
Establish Grants for Pilot/Pre-Commercial Phase Biorefinery Development
Enhance USDA Funding for Composting Infrastructure
In the meantime, if you share these goals sign up to join the fight to advance bioproducts' role in this year's Farm Bill! We'll keep you updated on our latest initiatives and opportunities for you to get involved. With your help, we can fully tap into the many benefits that renewable products offer. Join the fight here.
PBPC'S MEMBERSHIP PROGRAM
Interested in becoming a PBPC member? All PBPC members receive a variety of benefits that provide their organization a voice in Washington, while helping them stay up to date on the latest policy developments, communicate with their audiences, access valuable insights, and more. Tiered membership levels are available to fit the needs of any member of the plant-based products supply chain. Visit our website or reach out to PBPC's Keniece Barbee to learn more.
PLANT BASED INNOVATIONS
Almost every day we see new developments in the plant-based products space. Here are a few of our favorites that provide insights on the industry today and what's ahead for circular innovations.
BioFuels Digest: Swiss team wants to fight climate change with biobased drones
BioFuels Digest: Corman and Tosama set to launch bioplastic tampon applicator
CNN: Six innovations that can help feed the world
SUSTAINABILITY TRENDS & NEWS
As more consumers seek environmentally friendly products, corporations are adapting to meet these demands through more sustainable solutions. Here are some of the top stories covering these trends and providing insights on the latest industry news.
Fast Company: Inside Gen Z's conflicting passions for both sustainability and shopping
Forbes: The Future Of The Attractions Industry's Sustainability Efforts Must Include Purpose
The Washington Post: Paper or Plastic? That's Not an Easy Answer Anymore
GOVERNMENT UPDATES
With environmental reform being a top priority for the Biden Administration, there are constantly new developments in the regulatory space. Here are a few of the top happenings in the Administration, on Capitol Hill, and in the U.S. legal landscape.
WIRED: The Plastic Crisis Finally Gets Emergency Status
GreenBiz: How a global treaty could solve the plastic waste crisis
Grist: Oregon bans plastic foam and PFAS in food containers, promotes reusable alternatives
PBPC MEMBER NEWS
The dedicated work of our members toward a more sustainable future never ceases to amaze us. From setting sweeping environmental commitments, to partnering with others to make sustainable solutions more accessible, to launching new plant-based materials. Below, find some of the impressive work of our members over the last weeks.
ADM: ADM details sustainability goals progress
Good Natured products: Good Natured Products introduces compostable takeout containers
Ingredion: Ingredion Named to Top Regional Companies List by DiversityInc
LOLIWARE: Loliware unveils seaweed resin, compostable utensils
PepsiCo: UEFA Champions League finals to feature reusable packaging
PepsiCo: PepsiCo's Compostable Packaging Test-and-Learn Plan
---
---