5/12
PBPC Newsletter May 12, 2023
---
Welcome to the Plant Based Products Council Newsletter! If you have friends or colleagues interested in our industry, please let them know they can sign up for our newsletter. Then, read on for the latest in PBPC news and activities, as well as some of the amazing innovations, trends, and developments happening right now in the sustainability and bioeconomy world! If you missed our last edition, check it out using the link below.
PBPC RESPONDS TO DOE CIRCULARITY REQUEST FOR INFORMATION
On May 1, PBPC responded to the U.S. Department of Energy's (DOE) request for information on the key opportunities and challenges associated with increased material circularity. The comments will inform DOE's upcoming efforts to advance circular economy technologies and systems in the United States. PBPC's comments focused on the role of plant-based products in the circular economy, end-of-life opportunities, and the environmental benefits of biobased materials. View PBPC's comments here.
"By 2030, if two-thirds of conventional plastics around the globe were replaced by plant-based alternatives, the reduction of emissions would be equivalent to removing from the atmosphere the annual energy use of over 80 million homes."
EPA SEEKS FEEDBACK ON DRAFT NATIONAL STRATEGY TO PREVENT PLASTIC POLLUTION
The U.S. Environmental Protection Agency (EPA) has developed a Draft National Strategy to Prevent Plastic Pollution. This new initiative builds upon EPA's National Recycling Strategy and focuses on actions to reduce, reuse, collect, and capture plastic waste. A request for public comment period is now open to help inform the draft strategy, which identifies actions to improve post-consumer materials management and infrastructure to reduce plastic waste and other post-consumer materials in waterways and oceans.
PBPC will develop feedback and submit comments by the June 16, 2023 deadline. See the EPA request for public comment here.
PBPC WELCOMES NEW MEMBER: NATIONAL INDUSTRIAL HEMP COUNCIL OF AMERICA
PBPC is thrilled to welcome a new supporter member, the National Industrial Hemp Council of America (NIHC). Advocating for members ranging from the farm to consumers, NIHC works to further market development, assist members in entering the industry, and educate consumers on industrial hemp and its applications. PBPC looks forward to partnering with NIHC on Capitol Hill and beyond to advance the plant-based products industry's policy goals.
Learn more at NIHC's Facebook, LinkedIn, and Twitter channels.
NEW PLANT BASED LEADERS BLOG: EARTH BRANDS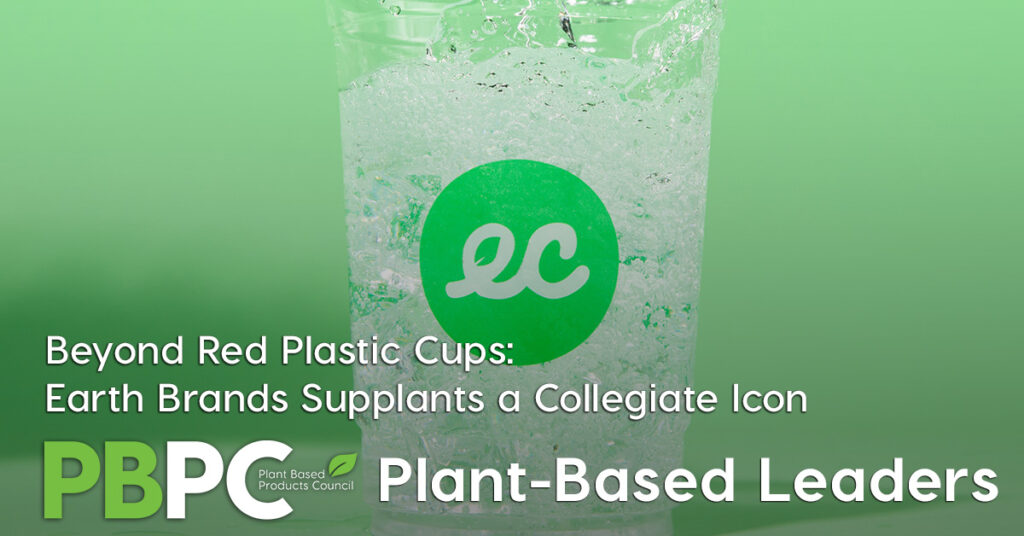 The latest blog in our Plant Based Leaders series spotlights the story of PBPC member Earth Brands. Co-founders Misha Medvedev and Peter Frelinghuysen founded the brand in 2019 to take on the ubiquitous red plastic cup, entering a global market for disposable cups that they estimate produces 40 billion cups a year.
In the years since, Earth Brands has sold 16 million cups and counting, while expanding into new products. Earth Brand's Earth Cups require roughly 50% less energy and water than a typical plastic cup. They are microplastic-free and 100% compostable in industrial facilities.
Learn more from the blog here.
NATIONAL CORN GROWERS ASSOCIATION ANNOUNCES
CONSIDER CORN CHALLENGE IV
The National Corn Growers Association has announced Consider Corn Challenge IV to find innovative new uses for U.S. corn feedstocks that will not detract from the existing corn market. Competition categories include:
Biobased materials from novel mixes of corn-derived plastics
Compostable plastics with high tensile strength, such as netting or packaging materials
Heavy-duty fuels or drop-in chemicals (e.g., sustainable aviation fuel; biodiesel derived from corn glucose, bunker fuel, etc.)
Carbon fiber
Other high-value molecules
A prize pool of $250,000 will be divided equally among one to six winners. The deadline for entries is June 30, 2023, at 5 p.m. CT. Learn more about the competition eligibility, success criteria, and more here.
PBPC SUBMITS COMMENTS TO FTC ON "GREEN GUIDES" REVIEW
On Apr. 24, PBPC submitted a response to the Federal Trade Commission (FTC) on its update of the "Green Guides for the Use of Environmental Claims," which aims to help marketers avoid making deceptive or unfair marketing claims.
In response to FTC's inquiries, PBPC reinforced the value of the Green Guides as a central resource to help businesses qualify environmental marketing claims and recommended that the guides be updated more frequently. To bring further clarity to the guides' existing guidance on renewable content claims, PBPC suggested that the term "biobased" be added with a definition consistent with USDA's BioPreferred® Voluntary Labeling Initiative's "biobased product."
JOIN THE FIGHT FOR PLANT-BASED PRODUCTS IN THE 2023 FARM BILL
PBPC advocates for a shift toward a more circular bioeconomy through greater adoption of renewable, plant-based materials supported by appropriate end-of-life infrastructure. The 2023 Farm Bill presents an opportunity for the U.S. to demonstrate leadership in growing a domestic bioeconomy that includes biobased products. Below are PBPC's priorities for advancing the biobased products industry through the 2023 Farm Bill. We'll keep you updated on these items' progress as Congress moves through the Farm Bill process.
Establish Uniform Definitions for Common Biobased Product Terminology
Moderize USDA's BioPreferred Program
Create NAICS codes for Biobased Product Manufacturing
Establish Grants for Pilot/Pre-Commercial Phase Biorefinery Development
Enhance USDA Funding for Composting Infrastructure
In the meantime, if you share these goals sign up to join the fight to advance bioproducts' role in this year's Farm Bill! We'll keep you updated on our latest initiatives and opportunities for you to get involved. With your help, we can fully tap into the many benefits that renewable products offer. Join the fight here.
PBPC'S MEMBERSHIP PROGRAM
Interested in becoming a PBPC member? All PBPC members receive a variety of benefits that provide their organization a voice in Washington, while helping them stay up to date on the latest policy developments, communicate with their audiences, access valuable insights, and more. Tiered membership levels are available to fit the needs of any member of the plant-based products supply chain. Visit our website or reach out to PBPC's Keniece Barbee to learn more.
PLANT BASED INNOVATIONS
Almost every day we see new developments in the plant-based products space. Here are a few of our favorites that provide insights on the industry today and what's ahead for circular innovations.
Hortidaily: Full bioplastic line to combat plastic waste launched
Biofuels Digest: Bugaboo offers bioplastic highchair
Thred: Three ways bioplastics are being turned into everyday objects
SUSTAINABILITY TRENDS & NEWS
As more consumers seek environmentally friendly products, corporations are adapting to meet these demands through more sustainable solutions. Here are some of the top stories covering these trends and providing insights on the latest industry news.
Reuters: Investors managing $10 trillion urge faster corporate action on plastics
The Guardian: Plastic is already in blood, breast milk, and placentas. Now it may be in our brains
Architectural Digest: So What Actually Happens When You Send Your Couch to a Furniture Recycling Program?
GOVERNMENT UPDATES
With environmental reform being a top priority for the Biden Administration, there are constantly new developments in the regulatory space on the issue. Here are a few of the top happenings in the Administration, on Capitol Hill, and in the U.S. legal landscape.
Agri-Pulse: Lawmakers keep focus on farm bill
POLITICO: FTC takes a microscope to sustainability claims
Reuters: US EPA calls for testing of oil derived from plastic waste
The New York Times: A New Tax on Greenhouse Gases
PBPC MEMBER NEWS
The dedicated work of our members toward a more sustainable future never ceases to amaze us. From setting sweeping environmental commitments, to partnering with others to make sustainable solutions more accessible, to launching new plant-based materials. Below, find some of the impressive work of our members over the last weeks.
ADM: Creating a More Sustainable Slice: ADM Launches HarvestEdge™ Oro
Eco-Products: New Wooden Cutlery From Eco-Products is a Cut Above
Green Dot Bioplastics: Green Dot Bioplastics' Compostable Film Resin Terratek® BD3003 Receives TÜV OK compost HOME Certification
NatureWorks: NatureWorks expands performance of Ingeo biopolymer in hygiene applications
PepsiCo: How PepsiCo marries ESG with financial decisions
Smile Compostable Solutions: Innovations Lift Sustainability of Coffee Pods
Smile Compostable Solutions: Smile Compostable Solutions Named Honorable Mention in Energy/Sustainability Category of Fast Company's 2023 World Changing Ideas Awards
Storopack: First-of-Its-Kind Air Pillow Packaging Made of 100% Recycled Material to Help Close the Recycling Loop
---
---