3/17
PBPC Newsletter March 17, 2023
---
Welcome to the Plant Based Products Council Newsletter! If you have friends or colleagues interested in our industry, please let them know they can sign up for our newsletter. Then, read on for the latest in PBPC news and activities, as well as some of the amazing innovations, trends, and developments happening right now in the sustainability and bioeconomy world! If you missed our last edition, check it out using the link below.
NEBRASKA GOV. JIM PILLEN & USDA UNDER SECRETARY FOR RURAL DEVELOPMENT XOCHITL TORRES SMALL TO GIVE KEYNOTES AT PBPC 2023 ANNUAL CONFERENCE: CIRCULAR SOLUTIONS
We're excited to announce Nebraska Governor Jim Pillen as a keynote speaker at PBPC 2023: Circular Solutions. The Governor will address Nebraska's bio-ecosystem and the role of renewable chemicals and biobased products in the state's bioeconomy development plans. Learn more about Governor Pillen's keynote address here.
We are also delighted to announce USDA Under Secretary for Rural Development Xochitl Torres Small as a keynote speaker at PBPC 2023: Circular Solutions. From the biobased feedstocks grown in rural areas to the biomanufacturing operations built in small towns, investment in the bioeconomy is a crucial part of rural economic development. Learn more about Under Secretary Torres Small's keynote address here.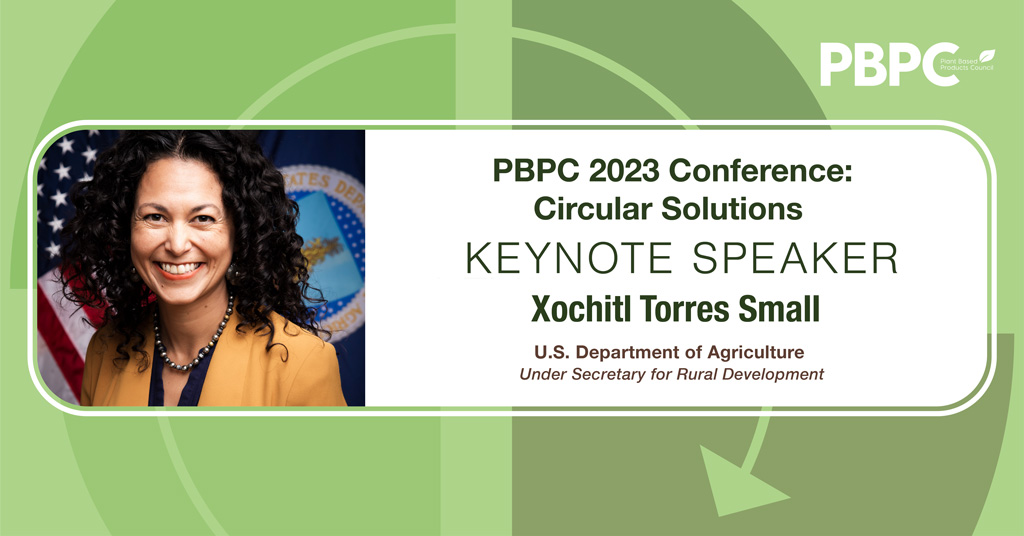 Time is running out—PBPC 2023 is less than two weeks away! Be sure to secure your spot today to hear from, and network with, industry leaders, policymakers, brands, and experts through panels, keynotes, networking sessions, and more at the JW Marriott in Washington, D.C. on Mar. 27-29, 2023.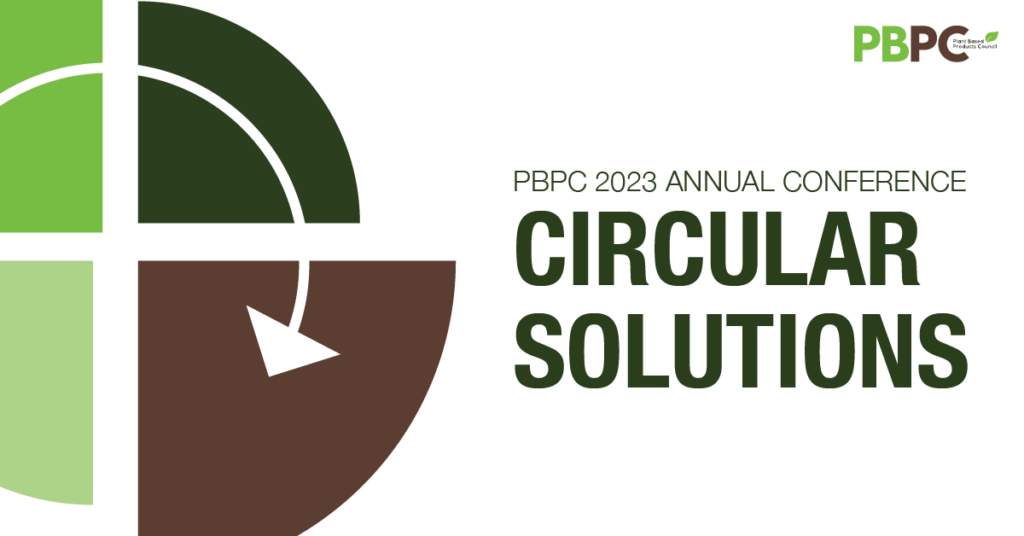 Recently Announced Speakers:
Jim Pillen, Governor of Nebraska
Xochitl Torres Small, Under Secretary for Rural Development, U.S. Department of Agriculture
Kristie Blumer, Composting Director, Compost Crew
Anthony Goins, Director, Nebraska Department of Economic Development
Sherry Vinton, Director, Nebraska Department of Agriculture
Megan Lennon, Energy and Environment Section Supervisor, Minnesota Department of Agriculture
Josie Montoney-Crawford, Manager of Public Policy, National Association of State Departments of Agriculture
Recently Announced Sessions:
States Investing in the Ag-Based Bioeconomy
With representatives from leading bioeconomy states, this session will highlight state-specific efforts to create an attractive economic environment for ag-based bioeconomy businesses. Speakers from state agriculture and economic development offices will spotlight workforce advantages, economic development incentives, university-based resources, and public policies in their state that serve as the foundational blocks for an attractive bioproduct business environment.
Ag Bioeconomy Coalition Farm Bill Agenda Discussion
The Ag Bioeconomy Coalition (ABC), of which PBPC is a member, advocates for federal policy initiatives that can foster growth in the agriculture bioeconomy. ABC promotes all elements of the U.S. agriculture bioeconomy, from biobased fuels, chemicals, and materials to essential economic tools like rural broadband, research, and infrastructure. ABC representatives will discuss the coalition's Farm Bill agenda, which includes: promoting government programs that facilitate the development and expansion of bioeconomy markets and infrastructure, particularly in rural economies; supporting market transparency and visibility initiatives that facilitate common ag bioeconomy nomenclature and economic measurement; and promoting ways in which government entities can support bioeconomy research and development.
Consumers and Composters: A Discussion on Designing and Labeling Compostable Packaging for the Organics Value Chain
The market for compostable packaging is poised to grow 17% annually from 2020 to 2027, yet significant consumer confusion persists around what is compostable and what to do with compostable packaging at the end of its use. Effective, consistent, and truthful labeling remains an ongoing challenge for consumers, policymakers, and composters alike. Closed Loop Partners and Biodegradable Products Institute (BPI) will present the key results from their joint consumer labeling study which measured the effectiveness of various on-item labeling techniques for compostable packaging. Following the presentation, the lead researchers will be joined by additional experts in the composting space to discuss how the findings can inform upstream design and labeling decisions that can support the whole organics value chain.
For updates on our conference schedule and lineup, check out PBPC's conference agenda here.
PBPC'S LATEST PLANT-BASED LEADER: DANIMER SCIENTIFIC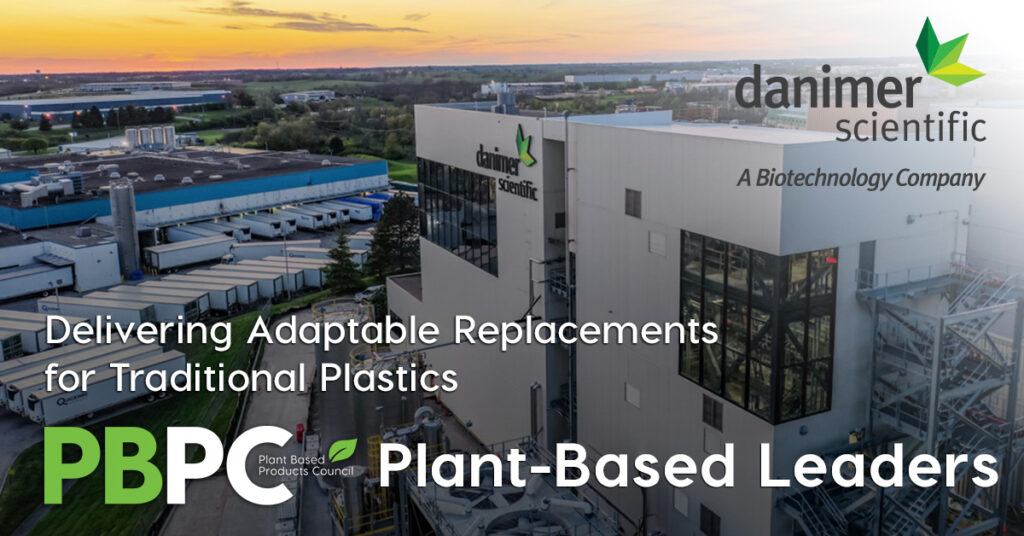 PBPC member Danimer Scientific is innovating to create more sustainable plastic solutions in order to derive all the economic and structural benefits of plastics at a fraction of the carbon footprint.
Over the past decade, the Danimer Scientific team has created and improved a plant-based replacement for petroleum-based plastics which offers a remarkable array of properties. Their PHA plastic serves as a renewable substitute across a broad spectrum of traditional products and applications, including molded plastics, adhesives, and aqueous coating barriers.
Check out the latest installment of our Plant-Based Leader series to learn more about Danimer Scientific and their work to create greener alternatives to traditional fossil-fuel based plastics.
PBPC SIGNS NCFAR LETTER REQUESTING $8 BILLION IN USDA FUNDING
PBPC has joined multiple other agriculture and bioeconomy advocacy groups in signing a letter from the National Coalition for Food and Agricultural Research (NCFAR) requesting $8 billion in mandatory funding for USDA research. The letter outlines why Congress must increase its investment in research, infrastructure, extension, and education in the upcoming Farm Bill, as well as the benefits of making these investments now. The funding would prove essential in promoting sustainability in U.S. agriculture and expanding the American bioeconomy. The letter was submitted to the House and Senate Committees on Agriculture on Mar. 6, 2023.
PBPC FARM BILL AGENDA
As 2023 Farm Bill discussions are underway, PBPC is working to advance several priorities aimed at supporting the bioproducts industry. PBPC's Farm Bill priorities are:
Establish Uniform Definitions for Common Biobased Product Terminology 
Modernize USDA's BioPreferred Program 
Create NAICS Codes for Biobased Product Manufacturing 
Establish Grants for Pilot/Pre-Commercial Phase Biorefinery Development 
Enhance USDA Funding for Composting Infrastructure 
PBPC'S MEMBERSHIP PROGRAM
Interested in becoming a PBPC member? All PBPC members receive a variety of benefits that provide their organization a voice in Washington, while helping them stay up to date on the latest policy developments, communicate with their audiences, access valuable insights, and more. Tiered membership levels are available to fit the needs of any member of the plant-based products supply chain. Visit our website or reach out to PBPC's Keniece Barbee to learn more.
PLANT BASED INNOVATIONS
Almost every day we see new developments in the plant-based products space. Here are a few of our favorites that provide insights on the industry today and what's ahead for circular innovations.
The Guardian: Plant or plastic? How to decode vegan leather alternatives
Yahoo! News: Researchers Create Plastic Straws from Potato Starch
Plastics Today: Carrots Are Good for Your Eyes and for Biodegradable Biopolymers
SUSTAINABILITY TRENDS & NEWS
As more consumers seek environmentally friendly products, corporations are adapting to meet these demands through more sustainable solutions. Here are some of the top stories covering these trends and providing insights on the latest industry news.
Grist: Rich countries export twice as much plastic waste to the developing world as previously thought
Reuters: Green is the new black as fashion sector fast-forwards on sustainability trend
The BBC: The most ingenious recycled homes
GOVERNMENT UPDATES
With environmental reform being a top priority for the Biden Administration, there are constantly new developments in the regulatory space on the issue. Here are a few of the top happenings in the Administration, on Capitol Hill, and in the U.S. legal landscape.
U.S. Department of Agriculture: USDA Celebrates Inaugural National Biobased Products Day
U.S. Department of State: United States Announces $800 Million in International Commitments for Protecting Our Ocean
Waste Dive: Washington's WRAP Act, including EPR and bottle bill plans, won't move forward this year
PBPC MEMBER NEWS
The dedicated work of our members toward a more sustainable future never ceases to amaze us. From setting sweeping environmental commitments, to partnering with others to make sustainable solutions more accessible, to launching new plant-based materials. Below, find some of the impressive work of our members over the last weeks.
Danimer Scientific: State of Kentucky Presents Danimer Scientific With Honorary Proclamation on National Biobased Products Day
Eco-Products: Eco-Products Earns Industry First for Compostable Packaging with No-Added PFAS
Ingredion: Ingredion Named to 2023 World's Most Ethical Companies List
Novamont: OrthoLite® Announces Exclusive Partnership with Novamont to Create the First Circular Foam Material Solution in Footwear
Smile Compostable Solutions: Smile Compostable Solution's Coffee Pod Receives Two New Compostable Certifications
Sway: Tom Ford Reveals 2023 Plastic Innovation Prize Winners
---
---