1/6
PBPC Newsletter January 6, 2023
---
Welcome to the Plant Based Products Council Newsletter! If you have friends or colleagues interested in our industry, please let them know they can sign up for our newsletter. Then, read on for the latest in PBPC news and activities, as well as some of the amazing innovations, trends, and developments happening right now in the sustainability and bioeconomy world!
PBPC 2023 ANNUAL CONFERENCE: CIRCULAR SOLUTIONS
EARLY BIRD REGISTRATION EXTENDED
SESSIONS & SPEAKERS ANNOUNCED!
Early bird registration for our 2023 Annual Conference: Circular Solutions has been extended to Jan. 31, 2023! Secure your spot today to hear from, and network with, industry leaders, policymakers, brands, and experts through panels, keynotes, networking sessions, and more at the JW Marriott in Washington, D.C. on Mar. 27-29, 2023. Visit our website to learn more about the conference and how attendees can book reduced rates at the JW Marriott through Mar. 6.
Speakers include:
Julia Marsh, Co-founder & CEO, Sway
Wendy Owens, CEO, Hexas Biomass Inc.
Ian Jacobson, President, Eco-Products
Alex Buck, Director of Industrial Innovation, Iowa Corn Promotion Board
Matt Gardner, Board President, BioP2P Network; Head of Life Sciences Americas, CBRE
Justine Li, Vice President, Strategic Business Development, ADM
Sarah Jelken, Vice President of Starches, Sweeteners, and Texturizers North America, Cargill
Sessions include:
Driving Plant-Based Product Feedstock Diversity
Just as the range of available plant-based products continues to expand, so does the use of more unique feedstocks. This session will feature speakers representing a variety of diverse feedstocks being used to make plant-based products, including hemp, seaweed, and grasses. Panelists will share their perspectives on the promise of those feedstocks, where and how they may be used, and what can be done to further support broader adoption and understanding of those respective feedstocks.
The Role of Rural America in Plant-Based Products
Agriculture is essential to America's leadership in plant-based chemicals and the bioeconomy. The efficiency and productivity of the nation's corn farmers drives the economic and sustainability engines we have committed to at the national and global level. Without widespread transformation of carbon dioxide into practical and useful forms, which can be done using solar energy, it will be difficult to achieve carbon negative products as well as energy, chemical, and material independence for the U.S. Corn and the other feedstocks that make up those practical and useful forms are true miracle crops – what else captures carbon dioxide using the sun and can be stored for years until it is needed for fuel, chemical, or material production? Let's see how agriculture can continue to be America's super tool.
Bottlenecks in the Scale-Up of the Bioeconomy
The scale-up of the bioeconomy depends on a strategic and comprehensive web of resources including infrastructure, capacity, and the workforce. This panel showcases the not-for-profit BioP2P Network that is focused on supporting scale-up of the bioeconomy through a connected community.
…and more!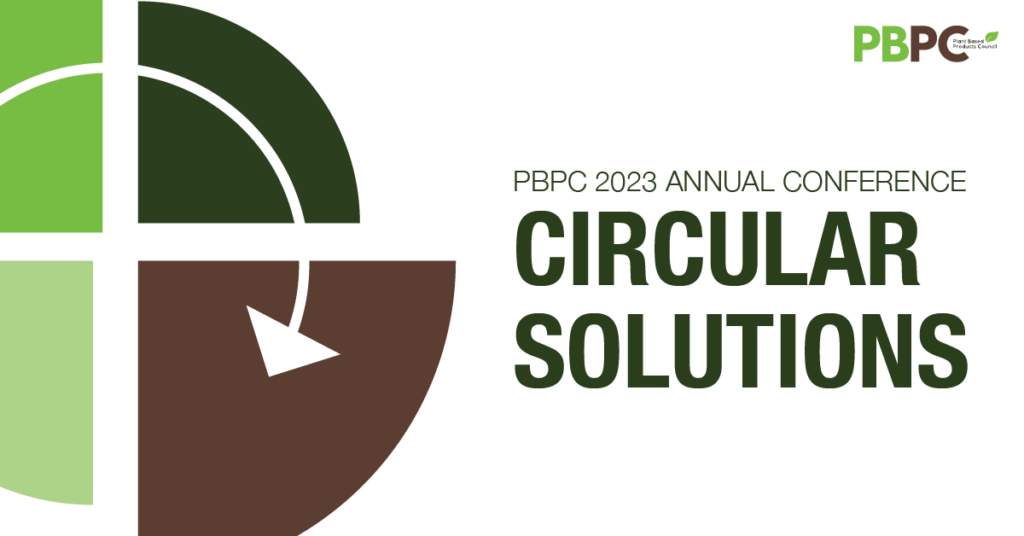 Interested in partnering with PBPC on the conference? Our sponsorship packages are now available and organizations can reach out to Bethany Murphy to get started.
Interested in speaking or know someone with insights to share? Fill out the form here to submit yourself or someone else for consideration.
PBPC'S JESSICA BOWMAN FOR FAST COMPANY: HOW YOUR BUSINESS CAN ACHIEVE CIRCULARITY
In her first column as a member of the Fast Company Executive Board, PBPC Executive Director Jessica Bowman provides actionable advice to help business leaders start closing the loop. Jessica outlined the upstream thinking and benefits of designing for circularity, leveraging case studies from PBPC member company Virent, Inc.'s partnership with Coca-Cola and PBPC member Footprint's partnership with Procter & Gamble brand Gillette.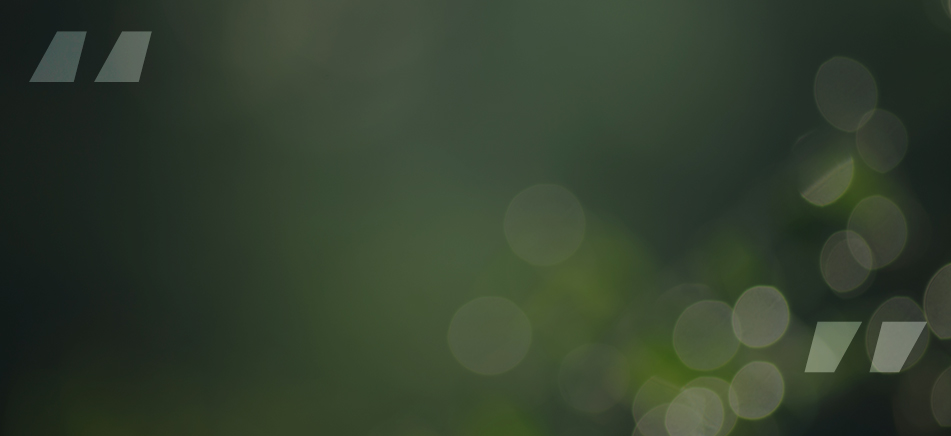 "Brands that sell products for individual consumers with a specific shelf-life, whether it's one hour, one day, or one year, face a different barrier to circularity. One solution here lies in rethinking the way products are made."
Read the full article in Fast Company here.
WELCOME JAMAICA GAYLE, PBPC'S NEW SENIOR MANAGER OF SUSTAINABILITY
PBPC is thrilled to welcome Jamaica Gayle to the team! As PBPC's new Senior Manager of Sustainability, Jamaica manages efforts to advance sustainability across plant-based product value chains. Jamaica is also responsible for representing PBPC in a broad range of industry and environmental coalitions focused on sustainability issues.
Prior to joining PBPC, Jamaica served as the Executive Director of the National Foreign Trade Council's Global Innovation Forum, a project to elevate small businesses to help foster an inclusive policy landscape. In this role, she led the organization's work to advance small business exports and sustainable trade initiatives. Jamaica began her career as a coordinator with the National Association of Manufacturers.
Jamaica is also a Women Leaders in Energy and Climate Fellow at the Atlantic Council and the Co-Chair of the Inclusion in Trade programming section of the Association of Women in International Trade. She earned her bachelor's degree in Political Science from the American University in Washington, D.C.
Originally from Minnesota, Jamaica holds a lifelong passion for the great outdoors and sustainable agriculture.
PBPC TO WEIGH IN ON BIOECONOMY EXECUTIVE ORDER
Last month, the White House Office of Science and Technology Policy (OSTP) issued a Request for Information (RFI), and scheduled a listening session, on the National Biotechnology and Biomanufacturing Initiative (NBBI). The NBBI was launched as part of President Biden's September 2022 Bioeconomy Executive Order.
The RFI states, "This RFI seeks public input on how advances in biotechnology and biomanufacturing can help us achieve goals that were previously out of reach and what steps can be taken to ensure we have the right research ecosystem, workforce, data, domestic biomanufacturing capacity, and other components to support a strong bioeconomy."
PBPC will submit responses, which are due Jan. 20, 2023, to the RFI, along with joining the Jan. 9 public listening session to detail PBPC's thoughts for advancing the bioeconomy.
ICYMI: WATCH PBPC'S LATEST SPEAKER SERIES EVENT ONLINE
On Friday, Dec. 16, PBPC Executive Director Jessica Bowman sat down with leading consumer companies to discuss the ways that top brands and businesses are leveraging plant-based innovations to meet their sustainability goals. Discussions centered around the dynamic actions that corporations have already taken, as well as the challenges that brands still face in creating more sustainable products for consumers. You can view the full discussion on our website or read a recap of the discussion's key points on our blog.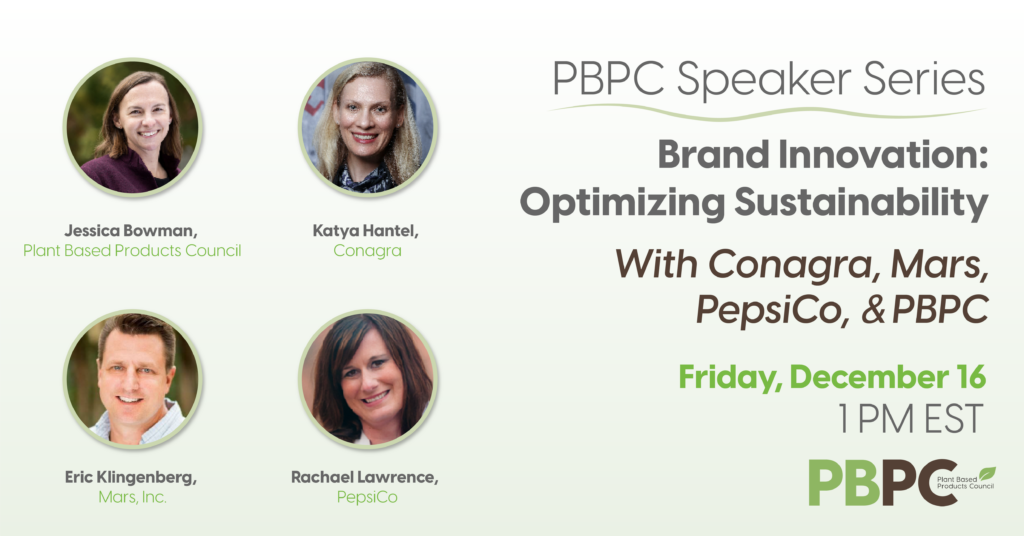 Details on our next speaker series event are forthcoming. Watch future PBPC newsletters for more information or visit our website to find out more.
USDA ANNOUNCES MARCH 8 AS NATIONAL BIOBASED PRODUCTS DAY
The U.S. Department of Agriculture's BioPreferred® Program has announced that Mar. 8, 2023, will be the first ever National Biobased Products Day! National Biobased Products Day will be an annual holiday designed to raise awareness of biobased products, including how they're made, what they're made from, their many benefits, and the wide variety of biobased products available on the market.
National Bioproducts Day will present an opportunity for everyone in the industry to celebrate their sustainability efforts and progress toward achieving a circular economy. Learn more about National Bioproducts Day here.
PBPC'S MEMBERSHIP PROGRAM
Interested in becoming a PBPC member? All PBPC members receive a variety of benefits that provide their organization a voice in Washington, while helping them stay up to date on the latest policy developments, communicate with their audiences, access valuable insights, and more. Tiered membership levels are available to fit the needs of any member of the plant-based products supply chain. Visit our website or reach out to PBPC's Keniece Barbee to learn more.
PLANT BASED INNOVATIONS
Almost every day we see new developments in the plant-based products space. Here are a few of our favorites that provide insights on the industry today and what's ahead for circular innovations.
Packaging Gateway: AIMPLAS develops plastic film from used coffee grounds
The Banner News: USDA Bioproduct Funding Paves Way for Soy Oil Rubber to Hit the Road
Vogue Business: The year in brand building: Lessons from fashion and beauty disruptors
SUSTAINABILITY TRENDS & NEWS
As more consumers seek environmentally friendly products, corporations are adapting to meet these demands through more sustainable solutions. Here are some of the top stories covering these trends and providing insights on the latest industry news.
NerdWallet: 3 Ways to Make Your Small Business More Sustainable
Forbes: Is There A Practical Way To Utilize Mixed Plastic Waste?
USA Today: Ethique's shampoo bars offer cleansing power in a tiny, sustainable package
GOVERNMENT UPDATES
With environmental reform being a top priority for the Biden Administration, there are constantly new developments in the regulatory space on the issue. Here are a few of the top happenings in the Administration, on Capitol Hill, and in the U.S. legal landscape.
DOE: Department of Energy Announces $52 Million to Fund Applied Research and Development for Materials and Technologies to Drive Innovation in Clean Manufacturing
USDA: USDA Invests $9.5M to Develop New Bioproducts from Agricultural Commodities
Forbes: COP 27 Recap: The Good, The Bad, And What's Next After The Climate Conference
The Wall Street Journal: Nations Pledge to Protect Animal, Plant Diversity
PBPC MEMBER NEWS
The dedicated work of our members toward a more sustainable future never ceases to amaze us. From setting sweeping environmental commitments, to partnering with others to make sustainable solutions more accessible, to launching new plant-based materials. Below, find some of the impressive work of our members over the last weeks.
Ingredion, PepsiCo, & Cargill: CN Recognizes 58 Customers and Supply Chain Partners that Drive Sustainable Business Practices under CN's EcoConnexions Partnership Program
NatureWorks & Novamont: Bioplastic Packaging Material Market to Witness Exponential Rise in Revenue Share during Forecast Period 2022 – 2030
Danimer Scientific: Formerra and Danimer Scientific collaborate amid biotechnology policy advances
---
---