1/20
PBPC Newsletter January 20, 2023
---
Welcome to the Plant Based Products Council Newsletter! If you have friends or colleagues interested in our industry, please let them know they can sign up for our newsletter. Then, read on for the latest in PBPC news and activities, as well as some of the amazing innovations, trends, and developments happening right now in the sustainability and bioeconomy world! If you missed our last edition, check it out using the link below.
PBPC 2023 ANNUAL CONFERENCE: CIRCULAR SOLUTIONS
EARLY BIRD REGISTRATION ENDS JAN. 31!
Early bird registration for our 2023 Annual Conference: Circular Solutions will end on Jan. 31, 2023! Secure your spot today to hear from, and network with, industry leaders, policymakers, brands, and experts through panels, keynotes, networking sessions, and more at the JW Marriott in Washington, D.C. on Mar. 27-29, 2023. Visit our website to learn more about the conference and how attendees can book reduced rates at the JW Marriott through Mar. 6.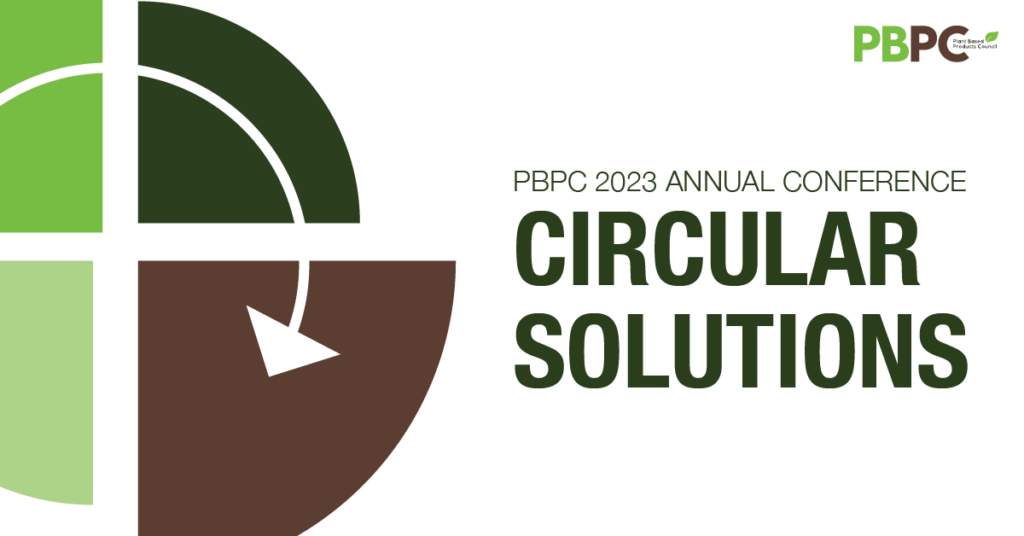 HOUSE AGRICULTURE COMMITTEE CHAIRMAN GLENN "GT" THOMPSON TO KEYNOTE PBPC2023
PBPC is thrilled to announce that Chairman Glenn "GT" Thompson will keynote our inaugural conference, PBPC 2023 Annual Conference: Circular Solutions! As the Representative for Pennsylvania's 15th Congressional District and Chairman of the House Committee on Agriculture, Rep. Thompson will share remarks on Congress' priorities for the 2023 Farm Bill, growing the bioeconomy, rural economic development, and fostering innovation in agriculture.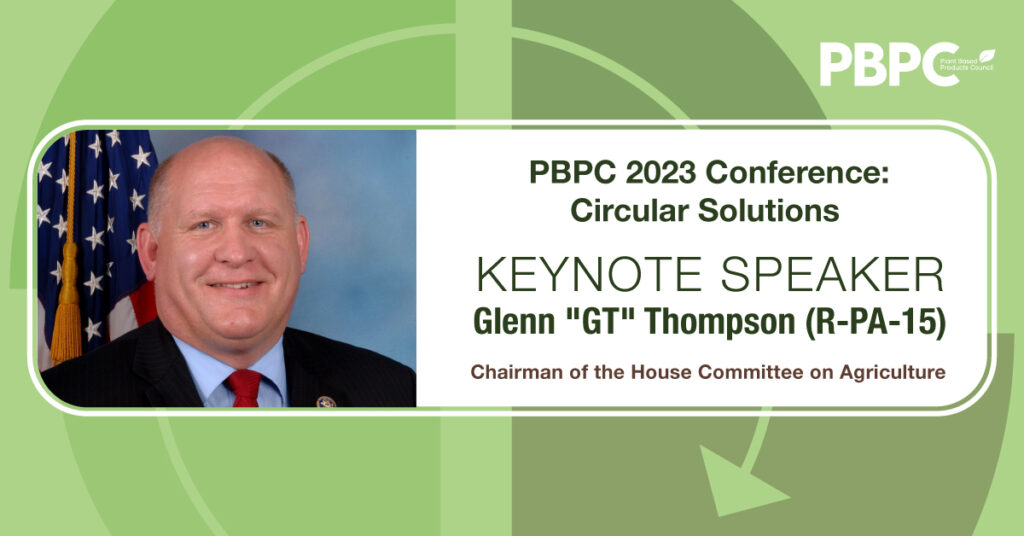 For other updates on our conference schedule and lineup, including details on our latest announced session, "Organics Diversion and Compostable Products: A Review of Current Opportunities and Challenges," check out PBPC's conference agenda here.
Interested in partnering with PBPC on the conference? Sponsorship packages are still available and organizations can reach out to Bethany Murphy to get started.
Interested in speaking or know someone with insights to share? Fill out the form here to submit yourself or someone else for consideration.
PBPC SECURES REPORT LANGUAGE IN OMNIBUS APPROPRIATIONS BILL
PBPC was successful in its request for the FY2023 omnibus appropriations bill to include report language directing the U.S. Department of Agriculture (USDA) to conduct a comparative study of the U.S. bioeconomy with other nations and report language reminding USDA to submit a report to Congress on life cycle analyses for biobased products. The inclusion of bioeconomy-related provisions is an important milestone for our industry and reinforces Congress' recognition of the scope, diversity, and opportunity of the bioeconomy.
PBPC DEVELOPING COMMENTS ON FTC GREEN GUIDES UPDATES
In December, the U.S. Federal Trade Commission (FTC) announced that it is seeking public comments on potential updates to its "Green Guides." The Green Guides provide guidance for the use of environmental marketing and environmental benefit claims. While seeking broad input on the guides, the FTC is also considering adding new claims such as "sustainable" and "compostable." PBPC is developing comments to submit by the Feb. 21, 2023 deadline.
PBPC TO WEIGH IN ON BIOECONOMY EXECUTIVE ORDER
Last month, the White House Office of Science and Technology Policy (OSTP) issued a Request for Information (RFI) and scheduled a listening session on the National Biotechnology and Biomanufacturing Initiative (NBBI). The NBBI was launched as part of President Biden's September 2022 Bioeconomy Executive Order.
The RFI "seeks public input on how advances in biotechnology and biomanufacturing can help us achieve goals that were previously out of reach and what steps can be taken to ensure we have the right research ecosystem, workforce, data, domestic biomanufacturing capacity, and other components to support a strong bioeconomy."
PBPC joined the Jan. 9 public listening session and will submit responses to the RFI, which are due today. detailing PBPC's thoughts for advancing the bioeconomy.
NEW FUNDING OPPORTUNITY: NSF-DOE/ABF COLLABORATION
Agile BioFoundry (ABF), in collaboration with the National Science Foundation (NSF) and the U.S. Department of Energy (DOE) Bioenergy Technologies Office (BETO), announced a new funding opportunity: Accelerating Innovations in Biomanufacturing Approaches through Collaboration Between NSF and the DOE BETO funded Agile BioFoundry (NSF-DOE/ABF Collaboration).
On Wed., Jan. 25, a webinar will be co-hosted by NSF, BETO, and ABF. The webinar will describe the objectives of this funding opportunity, discuss key considerations, lay out steps for submitting, and emphasize key dates. Register for the webinar here or learn more about this funding opportunity on the ABF website. 
PBPC'S MEMBERSHIP PROGRAM
Interested in becoming a PBPC member? All PBPC members receive a variety of benefits that provide their organization a voice in Washington, while helping them stay up to date on the latest policy developments, communicate with their audiences, access valuable insights, and more. Tiered membership levels are available to fit the needs of any member of the plant-based products supply chain. Visit our website or reach out to PBPC's Keniece Barbee to learn more.
PLANT BASED INNOVATIONS
Almost every day we see new developments in the plant-based products space. Here are a few of our favorites that provide insights on the industry today and what's ahead for circular innovations.
The Washington Post: In Iceland, start-up founders invent new ways to tackle environmental crises
ABC News: Designers look to nature, landfills for new decor materials
Fortune: A California startup is turning greenhouse gas into a biodegradable plastic alternative that's being used by Shake Shack, Nike, and H&M
The Roanoke Times: At Virginia Tech, research is turning food scraps to bioplastic
SUSTAINABILITY TRENDS & NEWS
As more consumers seek environmentally friendly products, corporations are adapting to meet these demands through more sustainable solutions. Here are some of the top stories covering these trends and providing insights on the latest industry news.
NPR: England will ban single-use plastic plates and cutlery for environmental reasons
Forbes: Scientists Say We Have Seven Years To Act. Here Are Seven Actions Investors And Companies Can Take In 2023
Vogue Business: Top fashion executives share their 2023 sustainability agendas
GOVERNMENT UPDATES
With environmental reform being a top priority for the Biden Administration, there are constantly new developments in the regulatory space on the issue. Here are a few of the top happenings in the Administration, on Capitol Hill, and in the U.S. legal landscape.
Waste Dive: What Congress did — and didn't — get done for waste and recycling in 2022
Grist: A new EPA proposal is reigniting a debate about what counts as 'renewable'
The New York Times: Powell Says Fed Will Not Be a 'Climate Policymaker'
Roll Call: Guide to House committee chairs for 118th Congress
PBPC MEMBER NEWS
The dedicated work of our members toward a more sustainable future never ceases to amaze us. From setting sweeping environmental commitments, to partnering with others to make sustainable solutions more accessible, to launching new plant-based materials. Below, find some of the impressive work of our members over the last weeks.
Green Dot Bioplastics: Good Garbage Podcast: Mark Remmert on the benefits and consequences of plastic production
PepsiCo: Walkers to Eliminate 250 Metric Tons of Virgin Plastic from Packaging
PepsiCo: PepsiCo CEO Says Companies Responsible for Making More-Sustainable Products
Smile Compostable Solutions: Smile Compostable Solution's Coffee Pods and Straws are Approved for use in Lomi Smart Waste Appliance
NatureWorks: NatureWorks to Launch Thailand Bioplastics Factory in 2024
Cargill: Chobani, Microsoft, Cargill and RMI bring on CEOs and heads of sustainability
---
---