2/17
PBPC Newsletter February 17, 2023
---
Welcome to the Plant Based Products Council Newsletter! If you have friends or colleagues interested in our industry, please let them know they can sign up for our newsletter. Then, read on for the latest in PBPC news and activities, as well as some of the amazing innovations, trends, and developments happening right now in the sustainability and bioeconomy world!
PBPC 2023 ANNUAL CONFERENCE:
CIRCULAR SOLUTIONS
UPDATES!
Secure your spot today to hear from, and network with, industry leaders, policymakers, brands, and experts through panels, keynotes, networking sessions, and more at the JW Marriott in Washington, D.C. on Mar. 27-29, 2023. Visit our website to learn more about the conference and how attendees can book reduced rates at the JW Marriott through Mar. 6.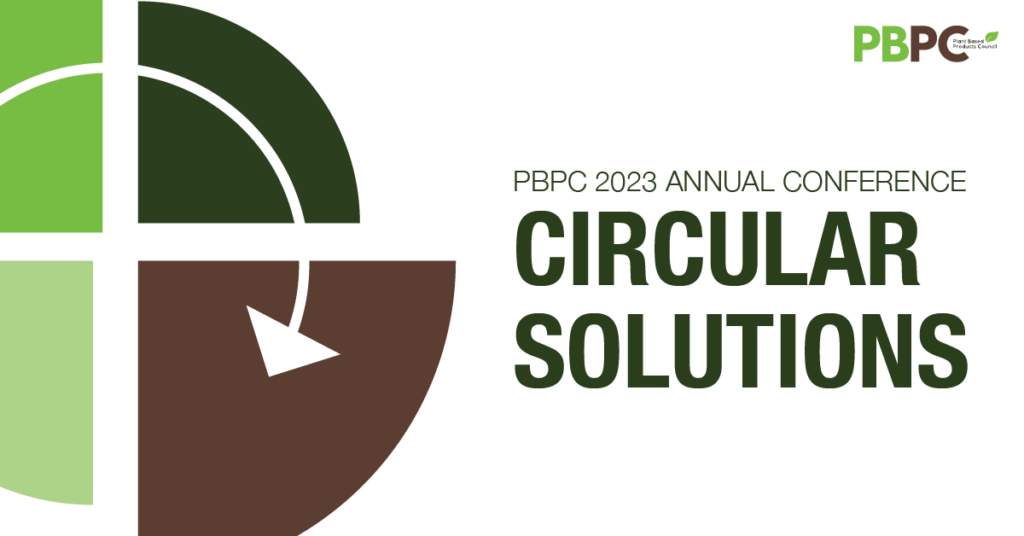 Recently Announced Speakers:
Dr. Arvin Cesar Lagda, Director of Cell and Cell Products Fermentation Facility, Waksman Institute of Microbiology, Rutgers University
Erica Stark, Executive Director, National Hemp Association
Shannon Pinc, Sr. Circular Economy Manager, NatureWorks
Recently Announced Session:
Chemicals of Concern and Transparency in Materials and Products
There is growing public interest in understanding the contents of the products and materials people use and interact with every day. Many manufacturers are working to provide consumers with reliable, transparent information about toxins and other chemicals of concern. Third-party certifications, labeling, testing, and other programs can provide some assurance within supply chains and to consumers about the potential presence of chemicals of concern in the products they use. This session will focus on trends and awareness of the safety of materials and products and the role policy and certification programs play in addressing concerns and helping brands and manufacturers to adopt safer alternatives.
For updates on our conference schedule and lineup, check out PBPC's conference agenda here.
Interested in joining companies like NatureWorks, BioP2P Network, and Eco-Products in partnering with PBPC on the conference? Sponsorship packages are still available and organizations can reach out to Bethany Murphy to get started.
PBPC'S LATEST PLANT-BASED LEADER:
BETH CONERTY & IBRL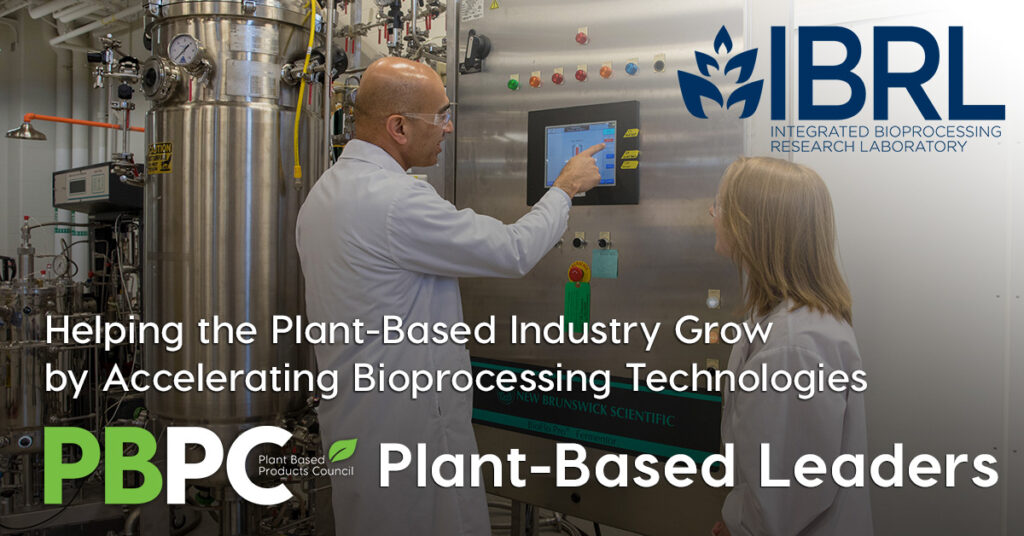 In scientific fields, transforming an amazing idea into a commercially viable product requires expensive and scarce economic infrastructure that often can be difficult for entrepreneurs to locate, secure for use, and then operate effectively.
The Integrated Bioprocessing Research Laboratory (IBRL) at the University of Illinois at Urbana-Champaign opened more than four years ago in order to address those challenges.
IBRL helps test and scale up green chemistry inventions, drawing an incredible mix of clients, all while educating students with hands-on experience in the lab.
Check out the latest installment of our Plant-Based Leader series to learn more about IBRL from its Associate Director of Business Development, Beth Conerty, who serves on the Plant Based Products Council's Advisory Board.
PBPC WELCOMES TWO NEW MEMBERS,
BRASKEM AND STOROPACK!
PBPC is thrilled to welcome Braskem and Storopack as new members!
Braskem is the largest petrochemical company in the Western Hemisphere and is the world's top biopolymer producer. Braskem produces chemicals that can be utilized for more sustainable products and solutions, and they have been globally recognized for their sustainability achievements. Learn more about Braskem.
Storopack is a global, family-run protective packaging company that is incorporating plant-based materials into their international packaging and shipping products. Their extensive catalogue of plant-based packaging materials includes products made from corn, wood, and vegetable starch derivatives. Learn more about Storopack's sustainable packaging options.
PBPC JOINS APEC WORKSHOP ON COMPOSTABLE BIOPLASTICS
On Feb. 20, PBPC Executive Director Jessica Bowman will participate in a workshop on "Promoting Sustainable Solutions for Compostable Bioplastics in the Asia-Pacific Region." The workshop will be held in Palm Springs, CA, as part of the Asia-Pacific Economic Cooperation (APEC) Senior Officials' Meetings hosted by the U.S. The workshop aims to highlight the challenges and solutions to incorporating compostable bioplastics as an answer to tackling plastic pollution and transitioning to a more circular economy.
PBPC'S JESSICA BOWMAN TO SPEAK AT
SCFIC 2023 ON MAR. 1
PBPC Executive Director Jessica Bowman will present virtually at SCFIC 2023, the 2023 Southern California Food Industry Conference, on Mar. 1. Jessica will discuss bio-based and biodegradable alternatives to plastic in packaging. More information on the virtual conference, including registration, is available here.
PBPC'S JESSICA BOWMAN NAMED TO THE
BIOECONOMY 500 BY BIOFUELS DAILY DIGEST
PBPC Executive Director Jessica Bowman was named one of The Daily Digest's Bioeconomy 500 for 2023. According to the publication, the Bioeconomy 500 "recognizes individuals for their leadership contributions to the bioeconomy's development and project deployment." The full list is available here.
COMPOST ACT REINTRODUCED
On Jan. 31, Representatives Julia Brownley (D-CA), Ann McLane Kuster (D-NH), and Chellie Pingree (D-ME) introduced the Cultivating Organic Matter through the Promotion Of Sustainable Techniques (COMPOST) Act. Senator Cory Booker (D-NJ) introduced companion legislation in the Senate. The COMPOST Act helps meet the growing demand from individuals and businesses to compost food scraps and certified compostable packaging. Assisting the transition to a circular economy, the COMPOST Act would create new USDA grant and loan guarantee programs for composting infrastructure projects, including both large-scale composting facilities as well as farm, home, or community-based projects. The bill would also add composting as a conservation practice for USDA conservation programs. Both the act of producing compost from organic waste and using compost on a farm would qualify as conservation practices. This bill addresses a critical need for communities around the country looking to expand access to food waste composting, an important step to help lead the shift to net-zero. The bill was part of an initiative led by the US Composting Infrastructure Coalition, which PBPC helped launch in 2021.
PBPC'S MEMBERSHIP PROGRAM
Interested in becoming a PBPC member? All PBPC members receive a variety of benefits that provide their organization a voice in Washington, while helping them stay up to date on the latest policy developments, communicate with their audiences, access valuable insights, and more. Tiered membership levels are available to fit the needs of any member of the plant-based products supply chain. Visit our website or reach out to PBPC's Keniece Barbee to learn more.
PLANT BASED INNOVATIONS
Almost every day we see new developments in the plant-based products space. Here are a few of our favorites that provide insights on the industry today and what's ahead for circular innovations.
CNBC: Cruz Foam makes styrofoam alternative from shrimp shells and food waste
GreenBiz: 5 reasons why sustainable timber must become a core global building material
The Hill: Plastic-eating bacteria offer new hope for recycling
SUSTAINABILITY TRENDS & NEWS
As more consumers seek environmentally friendly products, corporations are adapting to meet these demands through more sustainable solutions. Here are some of the top stories covering these trends and providing insights on the latest industry news.
CNBC: Costs could rise even more in 2023—and thousands of CEOs blame climate change
Harper's Bazaar: How might we see fashion change in 2023?
Rolling Stone: How the Push for Sustainability Is Changing the Tech Industry
GOVERNMENT UPDATES
With environmental reform being a top priority for the Biden Administration, there are constantly new developments in the regulatory space on the issue. Here are a few of the top happenings in the Administration, on Capitol Hill, and in the U.S. legal landscape.
The Baltimore Sun: Baltimore County votes to ban plastic bags
Green Car Congress: DOE announces $25.5M to improve biofuels and bioproducts
U.S. Department of Agriculture: USDA Invests $9.4 Million in Compost and Food Waste Reduction Projects
The National Law Review: ECHA Publishes Proposal under REACH to Ban the Use of PFAS in Most Applications, Including Food Packaging and Other Food-Contact Materials
PBPC MEMBER NEWS
The dedicated work of our members toward a more sustainable future never ceases to amaze us. From setting sweeping environmental commitments, to partnering with others to make sustainable solutions more accessible, to launching new plant-based materials. Below, find some of the impressive work of our members over the last weeks.
ADM: ADM takes steps to protect South American ecosystems
Braskem: Will ethanol fuel a low-carbon future?
Cargill: Cargill unveils $240 million 'ESG Time Deposit'
PepsiCo: PepsiCo, looking ahead with its pep+ programme, gets ready
---
---