Stay Informed!
Stay informed about what's happening with the Plant Based Products Council (PBPC). Here you'll find our press releases, opinion pieces, media mentions and links to articles that feature PBPC.
For media inquiries, please email media@pbpc.com and we'll be in touch as soon as possible.
You can also check out the PBPC Blog for updates and viewpoints on current issues or sign up for our newsletter for updates sent right to your inbox.
January 30, 2023
WASHINGTON, D.C. — On Jan. 20, the Plant Based Products Council (PBPC) submitted comments in response to the Dec. 20, 2022, White House Office of Science and Technology Policy's (OSTP) request for information (RFI) on the National Biotechnology and Biomanufacturing Initiative. In response to the OSTP's inquiries on how the U.S. government can better support the private sector to grow the bioeconomy, PBPC reinforced the need for more robust investments, incentives, technological optimization, and infrastructure development.
"For too long petroleum-based products have had the upper hand with decades of government investments and market optimization, and it's critical Read More >
PBPC Executive Director Jessica Bowman was named as a top lobbyist for the second year in a row in the 2022 list published by The Hill. This annual list highlights the biggest experts, influencers, and advocates in Washington who have successfully delivered results in Congress and the White House. See the entire list of policy experts, influencers, and advocates on The Hill's website.
Read More >
Nov. 18, 2022 – WASHINGTON, DC – This week, the Plant Based Products Council (PBPC) welcomed two new Board Members who will support the organization in advancing the growth of the plant-based products industry. Misha Medvedev, Co-founder & CEO of Earth Brands, and Shannon Pinc, Senior Circular Economy Manager of NatureWorks, join a diverse group of members from all links of the plant-based product supply chain. Pinc will serve as a general member board representative, while Medvedev will represent start-ups and small businesses.
"I am thrilled to welcome Misha and Shannon to our Board of Directors," said Jessica Bowman, Executive Read More >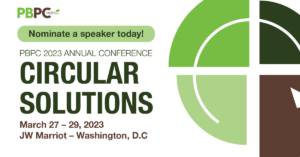 The will explore the innovations, business models, and policies influencing the entire lifecycle of bioproducts in the promotion of a more circular economy.
Owned and produced by the Plant Based Products Council, attendees will hear from, and network with, industry leaders, policymakers, brands, and experts through panels, keynotes, networking sessions, and more.
"Innovations in the bioeconomy present some of the most meaningful solutions for our 21st century challenges, including our climate, supply chain, and rural economic growth," says PBPC Executive Director Jessica Bowman. "We are thrilled to launch our annual conference convening leading experts and innovators to discuss their role Read More >
Waste360 covered a new study, the CompostABLE Chicago Study, which shows restaurants, commercial venues, and other foodservice locations can more successfully divert food scraps and lower customer confusion with the adoption of compostable packaging. PBPC is a report partner on the study, and the article quotes PBPC Board Member Ian Jacobson of Eco-Products and PBPC Advisory Board Member Olga Kachook of the Sustainable Packaging Coalition.
Read the article: Study: Compostable Packaging Lowers Consumer Confusion, Contamination at Restaurants
Read More >
According to Whole Foods Magazine, environmentally friendly products are increasingly important to consumers and that includes the packaging those products come in. The Plant Based Products Council (PBPC) annual consumer research program revealed that consumers are more favorable toward companies that are involved in sustainable initiatives.
Read the article: "5 Trends in Packaging"
Read More >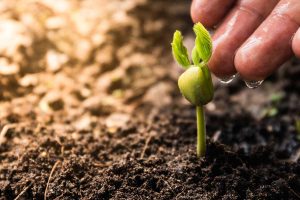 WASHINGTON, DC, September 12, 2022 – Following the announcement of President Biden's executive order to launch a National Biotechnology and Biomanufacturing Initiative, Plant Based Products Council (PBPC) Executive Director Jessica Bowman issued the following statement:
"The Biden Administration's executive order reinforces the U.S. bioeconomy has a significant role to play in addressing environmental challenges, elevating American innovation, and expanding economic opportunity," said Jessica Bowman, PBPC Executive Director. "The bioeconomy encompasses the entire supply chain – from the American farmers growing inputs like corn, hemp, and soy to the scientists and chemists turning those inputs into products like bioplastics to the Read More >
View More