10/25
PBPC Speaker Series: Commercialization of Bioproducts: Bringing Innovations from Idea to Market
---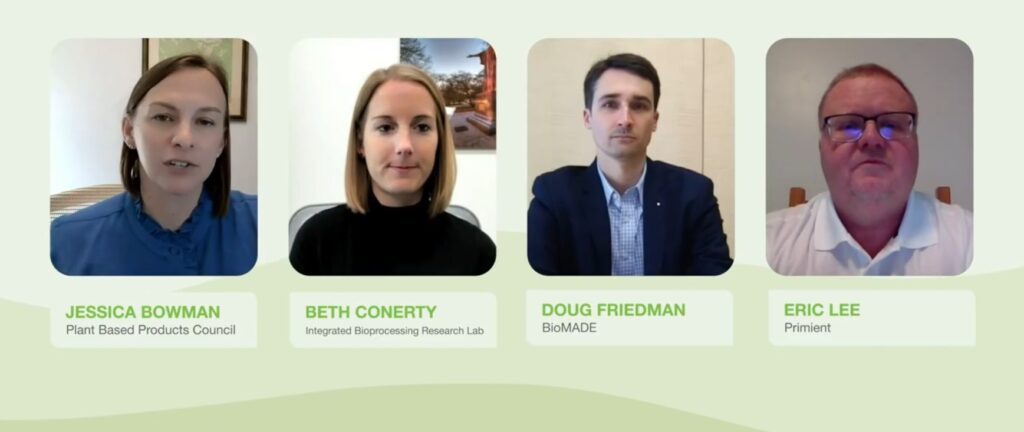 On October 20, the Plant Based Products Council convened innovators and leaders in the bioeconomy industry for the inaugural PBPC Speaker Series event, "Commercialization of Bioproducts: Bringing Innovations from Idea to Market" Hosted by Jessica Bowman, Executive Director of PBPC, the discussion focused on the challenges facing biomanufacturing in the United States, as well as the potential solutions for expanding domestic capacity. The virtual event included the following distinguished speakers:
Beth Conerty, Associate Director of Business Development, Integrated Bioprocessing Research Laboratory
Doug Friedman, CEO, BioMADE
Eric Lee, Director of Business Development, Fermentation & Bioindustry, Primient
When asked about the challenges currently facing the industry, all three speakers emphasized that the lack of scalable capabilities in the U.S. is a significant roadblock to industry growth. Eric Lee, Director of Business Development at Primient, a leading producer of food and industrial ingredients made from plant-based, renewable sources, identified the need for expansion in capabilities so that U.S.-based businesses can create products from start to finish domestically. "One of the challenges we have is a lack of capacity available in the U.S. to support this rapid growth and development of the technology," said Lee. "We need more fermenters and more steel in the ground at larger scales so folks can de-risk their processes, prove the commercial opportunities that they're trying to develop, and then take those next steps."
Another challenge that was discussed is the need for workforce development to support industry growth. Beth Conerty, Associate Director of Business Development at the University of Illinois – Urbana-Champaign's Integrated Bioprocessing Research Laboratory, described the dual challenges presented by the growing industry-wide demand for trained workers and the need for job security for young professionals starting their careers. "We want to train the workforce, but we have to make sure that there is an industry to continue to support them through their careers," said Conerty. "We don't want this to be a two or three-year steppingstone back to the oil and gas industry. We need mature companies that can guarantee career-long development and career-long opportunities."
Turning toward solutions, the speakers offered up many ideas to address the industry's challenges and facilitate growth. Doug Friedman, CEO of BioMADE, a manufacturing innovation institute, discussed the recent executive order from President Biden, which creates specific plans for promoting industry-wide growth and development in biomanufacturing. "It is imperative that all of us in this community have input," Friedman said. "This is going to set the stage for everything that comes behind it."
PBPC is grateful to each panelist for sharing their insights and for their efforts to advance the bioeconomy, which will be a key component to achieving climate goals and addressing domestic supply chain and rural economic issues looking ahead. We look forward to learning from more industry leaders at our upcoming PBPC Speaker Series events. More information on the next discussion is forthcoming. Sign up for news from PBPC to stay updated.
---
---