9/3
PBPC Newsletter September 3, 2021
---
Welcome to the Plant Based Products Council Newsletter! If you have friends or colleagues interested in our industry, please let them know they can sign up for our newsletter. Then, read on for the latest in PBPC news and activities, as well as some of the amazing innovations, trends, and developments happening right now in the sustainability and bioeconomy world! If you missed our last edition, check it out using the link below.
PBPC Newsletter August 20, 2021
HELP US SUPPORT THE COMPOST ACT
The recent introduction of the COMPOST Act is an important step toward a greener and more innovative waste reduction and recovery system for our country. Consider adding your voice by clicking the button below. Your support will show lawmakers the importance of increasing access to robust programs that divert compostable materials, including food scraps, yard trimmings, and certified compostable packaging. As part of the US Composting Infrastructure Coalition (USCIC), PBPC is helping lead the charge in support of the bill to ensure a circular path for certified compostable plant-based materials.
We've made it easy to ask your legislator to support the COMPOST Act. Just click the button below and fill out the form.  In addition, if your company or organization is interested in showing support for the bill, please reach out to PBPC's Kent Roberson.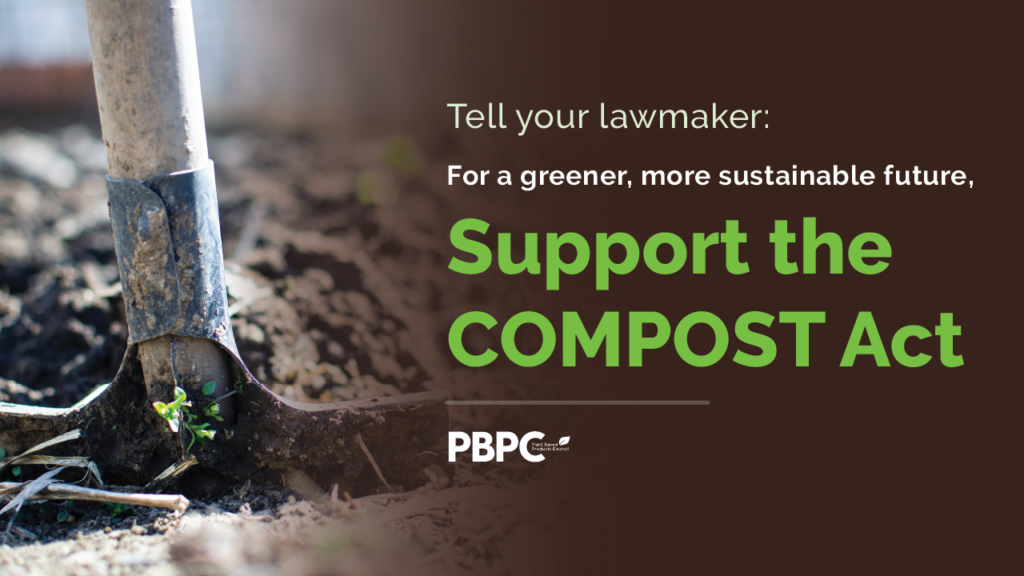 NEW BLOG POST: ARE ALL PLANT-BASED MATERIALS COMPOSTABLE OR BIODEGRADABLE?
In our latest Setting the Record Straight blog post, we're clarifying the misconception that all plant-based or biobased materials are biodegradable and compostable. Products can be biobased without being biodegradable or biodegradable without being compostable. And while all compostable products are biodegradable, all biodegradable products are not compostable.
PBPC believes in the value of bringing awareness to these definitions and the nuances of different disposal procedures. Consumers care about the environment, and want to take advantage of greener, more sustainable options. Supporting education initiatives will empower consumers to support the appropriate end-of-life methods and help transition to a more circular economy.
Learn more at our blog here.
EVENT: GETTING TO KNOW USDA'S FOREIGN AGRICULTURAL SERVICE
On Thursday, October 7 at 3 PM Eastern, join PBPC members and allies for a briefing hosted by USDA's Foreign Agricultural Service (FAS). FAS links U.S. agriculture to the world to enhance export opportunities and global food security. In addition to its Washington, D.C. staff, FAS has a global network of nearly 100 offices covering approximately 180 countries. These offices are staffed by agricultural attachés and locally hired agricultural experts who are the eyes, ears, and voice for U.S. agriculture around the world. FAS staff identify problems, provide practical solutions, and work to advance opportunities for U.S. agriculture and support U.S. foreign policy around the globe.
During the briefing, participants will have a chance to hear from USDA officials on the many FAS-led opportunities and programs that can help promote American plant-based products on the global marketplace. If you are interested in attending, please reach out to PBPC's Keniece Barbee for more information.
PLANT BASED INNOVATIONS
Almost every day we see new developments in the plant-based space. Here are a few of our favorites that provide insights on the industry today and what's ahead for circular innovations.
Fast Company: Move Over, Yeti. This Stylish Cooler Is Made From Coconuts
Financial Times: Shroom Boom: Could Mycelium Replace Leather?
Technology Networks: Compostable Food Packaging Created That Still Prevents Grease Seepage
SUSTAINABILITY TRENDS & NEWS
As more consumers seek environmentally-friendly products, corporations are adapting to meet these demands through sustainable packaging solutions. Here are some of the top stories covering these trends and providing insights on the latest industry news.
The New York Times: The Cotton Tote Crisis
Forbes: Three Misconceptions About Sustainability And Plastics
USA Today: Chobani Ditches Plastic Yogurt Cups For New Paper Cup With 'Thin Plastic Lining'
GOVERNMENT UPDATES
With environmental reform being a top priority for the Biden administration, there are constantly new developments in the regulatory space on the issue. Here are a few of the top happenings on Capitol Hill and in the U.S. legal landscape.
National Law Review: Congress Presses Forward On PFAS Measures
Bloomberg Law: DOE Urged To Weigh Environmental Inequity From U.S. Ethane Boom
Waste Dive: Supporters Planning National Bottle Bill Legislation Separate From Break Free From Plastic Pollution Act
PBPC MEMBER NEWS
The dedicated work of our members toward a more sustainable future never ceases to amaze us. From setting sweeping environmental commitments, to partnering with others to make sustainable solutions more accessible, to launching new plant-based materials. Below, find some of the impressive work of our members over the last two weeks.
ADM: ADM and Marathon Petrol Agree to Collaborate on Renewable Diesel and Explore Other Ways to Support Sustainability
Cargill: Combatting Climate Change with Regenerative Agriculture
Cargill: How We Build a More Sustainable Soy Supply Chain 
Danimer Scientific: Winchester, KY, Plant to Commercially Manufacture Nodax PHA 
Ingredion: Simplify Labels and Satisfy Consumers with Clean Label Ingredients
Footprint: Podcast: Recycling Misconceptions with Footprint
Natureworks: Introducing BioPlastics Week 2021
Novamont: B-FERST Project: Novamont Partners with European Project Aimed at Integrating the Valorisation of Biowaste with Circular and Bio-Based Value Chains
---
---