10/1
PBPC Newsletter October 1, 2021
---
Welcome to the Plant Based Products Council Newsletter! If you have friends or colleagues interested in our industry, please let them know they can sign up for our newsletter. Then, read on for the latest in PBPC news and activities, as well as some of the amazing innovations, trends, and developments happening right now in the sustainability and bioeconomy world! If you missed our last edition, check it out using the link below.
PBPC Newsletter September 17, 2021
DETAILS ARE AVAILABLE ON PBPC'S 2022 MEMBERSHIP PROGRAM
Interested in becoming a PBPC member? Details are now available on our 2022 Membership Program. All PBPC members receive a variety of benefits that can give their organization a voice in Washington, while helping them be up to date on the latest policy news, communicate with their audiences, access valuable resources and more. Tiered membership levels are available to fit the needs of any member of the plant based products supply chain. Visit our website or reach out to PBPC's Keniece Barbee to learn more.
NEXT WEEK: GETTING TO KNOW USDA'S FOREIGN AGRICULTURAL SERVICE
On Thursday, October 7, join PBPC members and allies for a briefing hosted by USDA's Foreign Agricultural Service (FAS). FAS links U.S. agriculture to the world to enhance export opportunities and global food security. In addition to its Washington, D.C. staff, FAS has a global network of nearly 100 offices covering approximately 180 countries. These offices are staffed by agricultural attachés and locally hired agricultural experts who are the eyes, ears, and voice for U.S. agriculture around the world. FAS staff identify problems, provide practical solutions, and work to advance opportunities for U.S. agriculture and support U.S. foreign policy around the globe.
During the briefing, participants will have a chance to hear from USDA officials on the many FAS-led opportunities and programs that can help promote American plant-based products on the global marketplace. If interested in attending, please reach out to PBPC's Keniece Barbee for more information.
HELP US SUPPORT THE COMPOST ACT
The recent introduction of the COMPOST Act is an important step toward a greener and more innovative waste reduction and recovery system for our country. Consider adding your voice by clicking the button below. Your support will show lawmakers the importance of increasing access to robust programs that divert compostable materials, including food scraps, yard trimmings, and certified compostable packaging. As part of the US Composting Infrastructure Coalition (USCIC), PBPC is helping lead the charge in support of the bill to ensure a circular path for certified compostable plant-based materials.
We've made it easy to ask your legislator to support the COMPOST Act. Just click the button below and fill out the form. In addition, if your company or organization is interested in showing support for the bill, please reach out to PBPC's Kent Roberson.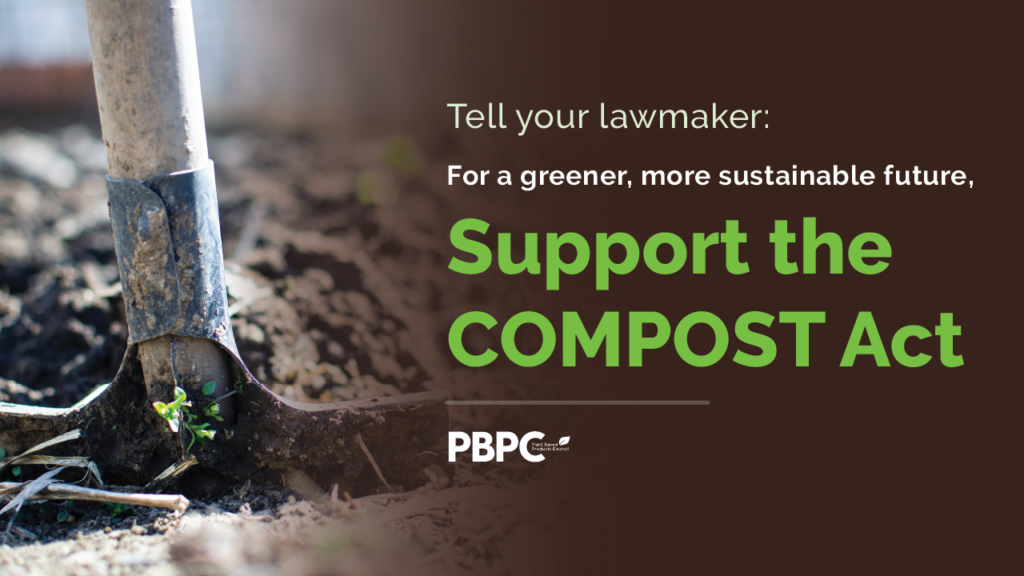 PLANT BASED INNOVATIONS
Almost every day we see new developments in the plant-based space. Here are a few of our favorites that provide insights on the industry today and what's ahead for circular innovations.
The Guardian: 'Circular' Fashion: Greenwashing Myth, Or Attainable Goal?
Fast Company: Microplastics Are In Everything. What if They Were Biodegradable?
Green Entrepreneur: How Hemp Is Helping Fight Climate Change
SUSTAINABILITY TRENDS & NEWS
As more consumers seek environmentally-friendly products, corporations are adapting to meet these demands through sustainable packaging solutions. Here are some of the top stories covering these trends and providing insights on the latest industry news.
The New York Times: The Covid Crisis Is Now A Garbage Crisis, Too
ABC News: McDonald's To Make Happy Meal Toys More Sustainable By End Of 2025
Fast Company: How These Giant Companies Are Working Together To Find the Best Ways To Reuse Ocean Plastic
GOVERNMENT UPDATES
With environmental reform being a top priority for the Biden administration, there are constantly new developments in the regulatory space on the issue. A new federal tax on virgin plastic used in single-use products is also getting attention. Here are a few of the top happenings on Capitol Hill and in the U.S. legal landscape.
The Hill: House Democrat Offers Bill To Create Tax On Single-Use Plastics

The Washington Post: EPA To Cut Greenhouse Gases Thousands Of Times More Powerful Than Carbon Dioxide

FORTUNE: SEC Looks To Streamline Sustainability Rules
PBPC MEMBER NEWS
The dedicated work of our members toward a more sustainable future never ceases to amaze us. From setting sweeping environmental commitments, to partnering with others to make sustainable solutions more accessible, to launching new plant-based materials. Below, find some of the impressive work of our members over the last two weeks.
ADM: ADM Signs Agreement with LG Chem to Explore Plant-Based Plastics Productions
Cargill: Cargill's Efforts to Bring Sustainable Innovation to Farmers and Customers Alike
Cargill: Cargill to Pay US Growers for Carbon-Friendly Farming Methods
Cargill: Cargill's Climate Change Goals
Danimer Scientific: Danimer Scientific and Chevron Phillips Chemical Collaborate to Develop Technology for Lower-Cost Biodegradable Polymer Manufacturing
Danimer Scientific: PepsiCo to Utilize Danimer Scientific's Plant-Based Materials with New Pep+ Initiative"
Futamura: When is it Appropriate to Use Compostable Packaging?
Ingredion: Ingredion Releases First Diversity, Equity, and Inclusion Report
NatureWorks: Creating Zero Waste Success in Colorado – Field Testing Compostable Packaging
PepsiCo: GreenBiz: PepsiCo Doubles Down On Reducing Virgin Plastic
SmartSolve: Why OECD 301B Matters for Sustainable Packaging
Tate & Lyle: Tate & Lyle's Sustainable Ag Program and Environmental Impact Goals
TIPA: Packaging News: Opinion: Follow South Australia's Lead on Compostable Packaging
---
---