3/3
PBPC Newsletter March 3, 2023
---
Welcome to the Plant Based Products Council Newsletter! If you have friends or colleagues interested in our industry, please let them know they can sign up for our newsletter. Then, read on for the latest in PBPC news and activities, as well as some of the amazing innovations, trends, and developments happening right now in the sustainability and bioeconomy world! If you missed our last edition, check it out using the link below.
PBPC 2023 ANNUAL CONFERENCE:
CIRCULAR SOLUTIONS
NEW SPONSOR – BPI
PBPC is thrilled to have the Biodegradable Products Institute (BPI) join Circular Solutions as a sponsor!
Secure your spot today to hear from, and network with, industry leaders, policymakers, brands, and experts through panels, keynotes, networking sessions, and more at the JW Marriott in Washington, D.C. on Mar. 27-29, 2023. Looking for somewhere to stay during the conference? There are only FOUR DAYS LEFT to book reduced rates at the JW Marriott for the dates of the conference. This offer will close on Monday, Mar. 6, so be sure to reserve your reduced rate this weekend! Visit our website to learn more.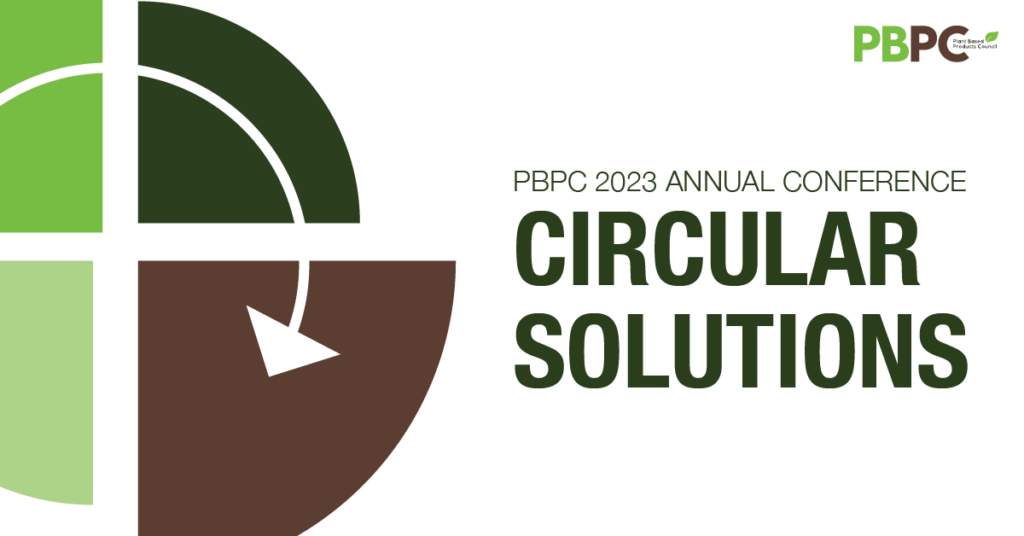 Recently Confirmed Speakers:
Steve Dubin, Principal, SDA Ventures LLC
Rhodes Yepsen, Executive Director, BPI
Linda Norris-Waldt, Deputy Director, US Composting Council
Graham Givens, Sustainability Manager, FoodBuy USA
Jim DeKloe, Educator, Solano College
Paula Luu, Senior Project Director, Closed Loop Partners
Kristie Blumer, Composting Director, Compost Crew
Misha Medvedev, Co-Founder, Earth Brands
Gerard Ostheimer, Manager, Clean Energy Ministerial Biofuture Campaign
For updates on our conference schedule and lineup, check out PBPC's conference agenda here.
Interested in joining companies like NatureWorks, BioP2P Network, Eco-Products, and BPI in partnering with PBPC on the conference? Sponsorship packages are still available and organizations can reach out to Bethany Murphy to get started.
REMINDER THAT NEXT WEDNESDAY, MAR. 8, IS THE
FIRST EVER NATIONAL BIOBASED PRODUCTS DAY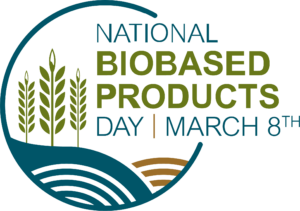 According to USDA, National Biobased Products Day is an annual date designed to raise awareness of biobased products – how they're made, what they're made from, their many benefits, and the wide variety of products available for use at home, in the office, on the playground, at construction sites, and even in landscaping. Learn more about National Biobased Products Day on USDA's BioPreferred website.
PBPC WELCOMES NEW MEMBER BIOPRODUCTS, LLC
PBPC is thrilled to welcome BioProducts, LLC as a new member!
BioProducts, LLC holds an exclusive license to use technology from the University of Louisville to develop value-added bioproducts using agricultural biomass and other plant-based inputs. Working with grain processors, sugar producers, distilleries, and more, BioProducts, LLC uses biomass to develop xylose and carbon products, aiming to create products that are both sustainable and economically viable. Their catalog of products ranges from food to power generation and biofuels. Learn more about BioProducts, LLC on their website.
PBPC'S LATEST PLANT-BASED LEADER:
BETH CONERTY & IBRL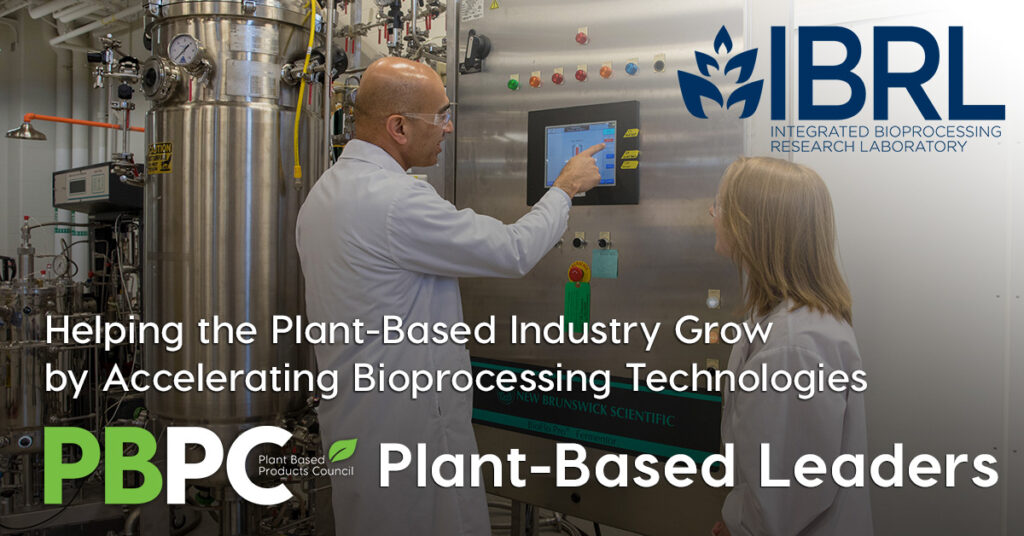 In scientific fields, transforming an amazing idea into a commercially viable product requires expensive and scarce economic infrastructure that often can be difficult for entrepreneurs to locate, secure for use, and then operate effectively.
The Integrated Bioprocessing Research Laboratory (IBRL) at the University of Illinois at Urbana-Champaign opened more than four years ago in order to address those challenges.
IBRL helps test and scale up green chemistry inventions, drawing an incredible mix of clients, all while educating students with hands-on experience in the lab.
Check out the latest installment of our Plant-Based Leader series to learn more about IBRL from its Associate Director of Business Development, Beth Conerty, who serves on the Plant Based Products Council's Advisory Board.
PBPC JOINS APEC WORKSHOP ON COMPOSTABLE BIOPLASTICS
On Feb. 20, PBPC Executive Director Jessica Bowman participated in a workshop on "Promoting Sustainable Solutions for Compostable Bioplastics in the Asia-Pacific Region." The workshop was held in Palm Springs, CA, as part of the Asia-Pacific Economic Cooperation (APEC) Senior Officials' Meetings hosted by the U.S. The workshop aimed to highlight the challenges and solutions to incorporating compostable bioplastics as an answer to tackling plastic pollution and transitioning to a more circular economy. During the event, Jessica moderated a panel on creating sustainable policies that support compostable plastics, including the role of labeling, standards, and certifications.
PBPC'S MEMBERSHIP PROGRAM
Interested in becoming a PBPC member? All PBPC members receive a variety of benefits that provide their organization a voice in Washington, while helping them stay up to date on the latest policy developments, communicate with their audiences, access valuable insights, and more. Tiered membership levels are available to fit the needs of any member of the plant-based products supply chain. Visit our website or reach out to PBPC's Keniece Barbee to learn more.
PLANT BASED INNOVATIONS
Almost every day we see new developments in the plant-based products space. Here are a few of our favorites that provide insights on the industry today and what's ahead for circular innovations.
The New York Times: In Search for Sustainable Materials, Developers Turn to Hemp
Fast Company: This foldable coffee cup cleverly eliminates the plastic lid
WIRED: You Can Turn Your Backyard Into a Biodiversity Hotspot
SUSTAINABILITY TRENDS & NEWS
As more consumers seek environmentally friendly products, corporations are adapting to meet these demands through more sustainable solutions. Here are some of the top stories covering these trends and providing insights on the latest industry news.
Fast Company: The toxic waste problem that no one's talking about
Waste Dive: US Plastics Pact makes varied progress on circular packaging; 2025 targets may be out of reach
Financial Times: US-Europe trade tensions heat up over green subsidies
GOVERNMENT UPDATES
With environmental reform being a top priority for the Biden Administration, there are constantly new developments in the regulatory space on the issue. Here are a few of the top happenings in the Administration, on Capitol Hill, and in the U.S. legal landscape.
Waste Dive: Bottle bill or 'recycling refund' legislation? Advocates commit to 2023 policy push
The Guardian: US beach town bans balloons to save the ocean
Bloomberg: The EU Is Cracking Down on Plastic. Will Others Follow?
PBPC MEMBER NEWS
The dedicated work of our members toward a more sustainable future never ceases to amaze us. From setting sweeping environmental commitments, to partnering with others to make sustainable solutions more accessible, to launching new plant-based materials. Below, find some of the impressive work of our members over the last weeks.
P2 Science: Living Proof Launches New No-Frizz Smooth Stylers in Partnership with P2 Science
NatureWorks: CJ Biomaterials and NatureWorks Sign Master Collaboration Agreement, Solidifying Relationship to Commercialize Novel Biopolymer Solutions
LOLIWARE: LOLIWARE is proud to be a global finalist for The Earthshot Prize
Virent: Bell 505 first single-engine helicopter to fly using 100% sustainable aviation fuel; Neste/Virent fuel partnership
Virent: Plant-based tech from Madison's Virent finds its way into new Patagonia jacket
---
---