8/20
PBPC Newsletter August 20, 2021
---
Welcome to the Plant Based Products Council Newsletter! If you have friends or colleagues interested in our industry, please let them know they can sign up for our newsletter. Then, read on for the latest in PBPC news and activities, as well as some of the amazing innovations, trends, and developments happening right now in the sustainability and bioeconomy world!
HELP US SUPPORT THE COMPOST ACT
The recent introduction of the COMPOST Act is an important step toward a greener and more innovative waste reduction and recovery system for our country. Consider adding your voice by clicking the button below. Your support will show lawmakers the importance of increasing access to robust programs that divert compostable materials, including food scraps, yard trimmings, and certified compostable packaging. As part of the US Composting Infrastructure Coalition (USCIC), PBPC is helping lead the charge in support of the bill to ensure a circular path for certified compostable plant-based materials.
We've made it easy to ask your legislator to support the COMPOST Act. Just click the button below and fill out the form.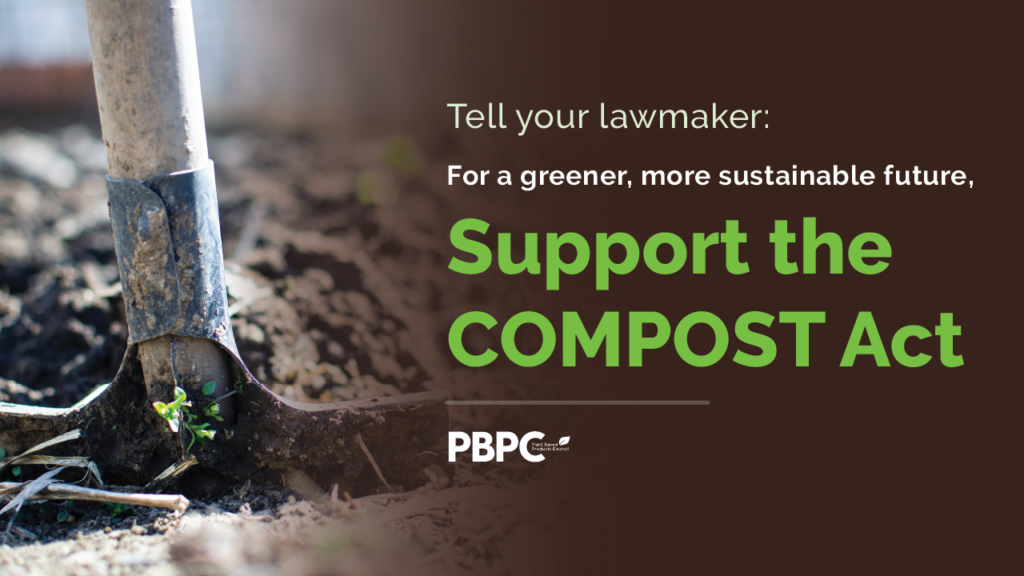 PLANT BASED LEADERS: NOVAMONT
In our latest Plant Based Leaders series, we're highlighting PBPC member Novamont! An international leader in the bioplastics sector, the company's compostable biopolymer, MATER-BI, is derived from plants and biodegradable materials.
"We can all help reduce the burden on landfills and lower methane emissions by ensuring food waste instead becomes compost," explains Paul Darby, Vice President- Marketing at Novamont North America. "Two of America's top ten largest grocery chains offer such compostable bags – both are made in the USA from our MATER-BI. For every 1.5 kg of food waste collected and composted in this bag, 2.6 kg of CO2 equivalent is saved, avoiding methane production in landfills."
Read our spotlight on Novamont here.
PLANT BASED INNOVATIONS
Almost every day we see new developments in the plant-based space. Here are a few of our favorites that provide insights on the industry today and what's ahead for circular innovations.
Plastics Today: Bacteria-Based Bioplastics Have Agricultural Benefits
Green Queen: SynBio Startups Bolt Threads And Ginkgo Team Up To Disrupt Beauty Industry
Fast Company: Activewear Drives Climate Change. Allbirds' New Line Fights Back
SUSTAINABILITY TRENDS & NEWS
Emerging reports on the threats of climate change continue to underscore the need for immediate action among lawmakers and corporations globally. Evolving consumer and supply trends across industries illustrate the emphasis on circular solutions to address environmental threats.
The Washington Post: Humans Have Pushed The Climate Into 'Unprecedented' Territory, Landmark U.N. Report Finds
CNBC: The Environment Is Gen Z's No. 1 Concern – And Some Companies Are Taking Advantage Of That
Vogue: Will This Be the Season of "Climate Positive" Fashion?
GOVERNMENT UPDATES
Following a recent landmark climate report from the United Nations, the Biden Administration and policymakers are sounding the alarm over the report's findings. Last week, the Senate confirmed the nomination of Jenny Lester Moffitt to serve as USDA undersecretary for Marketing and Regulatory Programs. State governments and the U.S. Senate are also advancing legislation to address climate and recycling infrastructure issues.
CNN: 'Final Warning': Lawmakers, Biden Administration Sound Alarm Over UN Climate Report And Urge Swift Action
Farm Progress: Full Senate Approves USDA Undersecretary Moffitt
Associated Press: Senate Dems Unveil $3.5T Budget For Social, Climate Efforts
PBPC MEMBER NEWS
The dedicated work of our members toward a more sustainable future never ceases to amaze us. From setting sweeping environmental commitments, to partnering with others to make sustainable solutions more accessible, to launching new plant-based materials. Below, find some of the impressive work of our members over the last two weeks.
Cargill: "How Farmers and Food Companies are Working to Save our Soils"
Cargill: Aquaculture Sustainability Progress in Annual Report
Cargill: Supporting 10 Million Acres of North American Row Crop Farmland To Be Regeneratively Managed By 2030
Danimer Scientific: Completed Acquisition of Biodegradable Polymer Producer Novomer
Footprint: Footprint Announces Partnership with Annie's Inc To Produce Plant-Based Fiber Cups
Natureworks: New Fully Integrated Biopolymer Production Facility in Thailand
Novamont: Novamont Partners with the Vehicle Project, Which Aims to Widen the Business and Market Opportunities of Existing and Future Biorefineries
Roquette: Alternative Protein Showcase in Singapore – August 25-27
Roquette: Students from the Singapore Institute of Technology and Massey University Reveal "Plant-Based Seaweed Chicken with Spirulina"
Tate & Lyle: "Creating a Point of Difference in Plant-Based Alternatives"
Tate & Lyle: Stutelberg on Primary Products and 2021 Annual Report
---
---